Main Content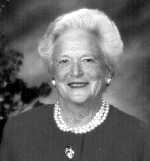 Former First Lady Barbara Bush, mother of President George W. Bush and wife of former President George Bush, will deliver Wake Forest University's commencement address on May 21.
Barbara Bush will be the third member of the Bush family to appear at Wake Forest. Both her husband, in 1988, and her son, in 2000, debated presidential opponents in Wake Forest's Wait Chapel.
Brad R. Braxton, the Jessie Ball duPont Assistant Professor of Homiletics and Biblical Studies at Wake Forest's Divinity School, will deliver the baccalaureate address during commencement weekend.
Throughout her years in public life, Barbara Bush has volunteered with and supported hundreds of charity and humanitarian causes, in addition to supporting her husband's career. She continues her service as AmeriCares ambassador-at-large, as a board member of the Mayo Clinic Foundation and as a supporter of foundations like the Leukemia Society of America, Ronald McDonald Houses and the Boys & Girls Club of America.
Family literacy has been her primary cause since her husband's terms as vice president. As First Lady, Barbara Bush called working for a more literate America "the most important issue we have," and involved herself in many organizations devoted to this cause. She is honorary chair of the Barbara Bush Foundation for Family Literacy, whose mission is to support the development of family literacy programs and establish literacy as a value in every American family.
Barbara Bush is the author of "C. Fred's Story" and the best-selling "Millie's Book," whose profits benefit the literacy cause. She most recently completed "Barbara Bush: A Memoir," a best-selling autobiography emphasizing the importance of family, faith and friends.
Braxton was senior pastor of the 600-member ecumenical Douglas Memorial Community Church in Baltimore before joining Wake Forest's Divinity School faculty in August. A 1991 graduate of the University of Virginia with a bachelor's degree in religious studies, he has received numerous honors and awards, including the Rhodes Scholarship. With it, he earned a master's degree in New Testament Studies at Oxford University in 1993 and went on to complete a doctorate in New Testament Studies from Emory University in 1999.
Braxton recently appeared with three other African-American Rhodes Scholars in the national publication, "The African-Americans," a pictorial anthology showcasing African-American achievement. His sermons, "The Greatest Temptation" and "To Hell and Back," have been published in "The African-American Pulpit," a national journal dedicated to African-American preaching.
Categories: Commencement, Events, Speakers, University Announcement
Subscribe
Sign up for weekly news highlights.
Subscribe