Main Content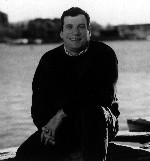 Best-selling author and sports commentator John Feinstein will speak about ethics and college athletics Feb. 14 at 3 p.m. in Benson University Center's Pugh Auditorium. Titled, "What is Wrong With College Athletics in the 21st Century," the talk is part of the university's 2000-2001 Year of Ethics and Honor series. The event is free and open to the public.
Feinstein is a former reporter for The Washington Post, Sports Illustrated and National Sports Daily. He is now a regular commentator for National Public Radio's "Morning Edition" and ESPN's "The Sports Reporters." He also is a visiting professor of journalism at Duke University.
Feinstein's books about sports have become best-sellers. His first, "A Season on the Brink," is the best-selling sports book of all time. "A Good Walk Spoiled" was the No. 1 book on The New York Times Bestsellers List both in hardcover and paperback. His other popular titles include, "A March to Madness: The View From the Floor in the Atlantic Coast Conference," and his latest work, "The Last Amateurs: Playing for Glory and Honor in Division I College Basketball," released in November 2000.
The Year of Ethics and Honor is the fifth theme year celebrated at Wake Forest. Previously, the university has celebrated Science and Technology: the Next Millennium (1999-00), the Year of Globalization and Diversity (1998-99), the Year of Religion (1997-98) and the Year of the Arts (1996-97).
For more information about Year of Ethics and Honor events and a complete calendar, visit the Web site, http://www.wfu.edu/ethics.
Subscribe
Sign up for weekly news highlights.
Subscribe