Main Content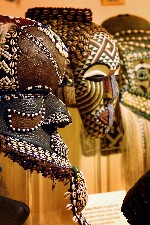 "Transformations: African Masks from the Museum of Anthropology Collection" opens March 8 at Wake Forest University's Museum of Anthropology. The exhibit showcases 40 African masks from East and West African tribes such as the Kuba, the Yoruba and the Makonde.
The exhibit looks at mask performances in countries across Africa and explores the changes in masquerade from pre-colonial times to the present. It runs through June 21 and is free and open to the public.
Beverlye Hancock, the museum's curator of education, installed and researched the exhibit with help from Wake Forest students and volunteers. Hancock visited Africa on a study and collecting trip two years ago and some of her photographs and video footage are included in the exhibit.
In conjunction with the exhibit, David Binkley, deputy director of the National Museum of African Art in Washington, D.C., will speak on "The Scourge of the Congo: Western Interpretations of African Masks in the Early 20th Century" at 2:30 p.m. April 1 in the museum classroom.
"In the late 19th and early 20th centuries, Central African masks were invariably interpreted by Europeans and Americans as indispensable to the practice of sorcery," Binkley said.
His presentation will trace early interpretations of certain Congolese cultures and their masks as they appear in ethnographic writings and in museum exhibitions. He will also address the continued use of African masks in Western popular culture as symbols of primitivism.
Binkley will give a second lecture, "Masks, Space and Gender," at 7:30 p.m. on April 2 in the museum classroom. His presentation will address how masquerade performances during initiation rituals in Africa often express tensions between the sexes.
Binkley's lectures are co-sponsored by Wake Forest's anthropology department, Office of Multicultural Affairs, Center for International Studies and Divinity School. Both events are free and open to the public.
The museum will also host an afternoon Family Day program on April 21 that explores the ways both African masquerade and Western theatre makeup, mask and costume production have a transformational effect upon the actor and the audience. Mary Wayne Thomas, associate professor of theater at Wake Forest, will demonstrate how masks, makeup and costume are used to change the performer's persona. The program is from 2 p.m. to 3:30 p.m. and the cost is $7 per family or $10 for a family of five or more. Pre-registration is recommended.
Admission to the museum is free. Museum hours are Tuesday through Saturday, 10 a.m. to 4:30 p.m. For information, call 336-758-5282.
Categories: Arts & Culture, Events
Subscribe
Sign up for weekly news highlights.
Subscribe