Main Content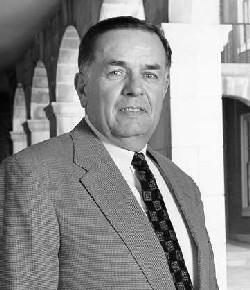 With a nearly $7 million estate gift from the late barbecue restaurateur W. Keith Stamey of Greensboro, Wake Forest University has established a scholarship that will assist 62 freshmen and returning students in attending the university in the fall.
It is the largest single gift made to Wake Forest by an individual, according to James Bullock, director of the university's "Honoring the Promise" capital campaign. The gift establishes the university's fourth-largest endowed scholarship fund.
Stamey, a 1959 Wake Forest graduate who died in June 2000, left his entire estate to endow a need-based scholarship to be awarded to students from North Carolina and adjoining states. They will receive awards ranging from $1,000 to $15,000, depending on need.
"Keith wanted to help Wake Forest remain accessible to its historical constituency, which was comprised generally of North Carolina students from families of modest means," Bullock said.
Wake Forest President Thomas K. Hearn Jr. said the scholarship "will serve as lasting tribute to Keith's dedication to the university, and especially his concern for our students."
The gift will also help the university maintain its commitment to a need-blind admissions policy, which calls for admitting students without regard to their ability to pay and offering them financial aid.
"As top national schools increasingly offer more financial assistance in the form of scholarships rather than loans, and in some cases eliminate loans altogether, this is an important step forward for Wake Forest in being able to meet a higher percentage of financial need with scholarships," said Financial Aid Director Bill Wells.
Just recently, Wake Forest joined more than two dozen colleges and universities in announcing that they have agreed on new guidelines for determining who is eligible for financial aid. The guidelines, representing a national effort to boost aid for needy students, are part of a broad agreement by the 28 schools to continue to endorse need-based aid. Other institutions in the group include Yale, Cornell and Stanford.
Stamey owned and operated Stamey's Barbecue in Greensboro with his brother, Charles, and his nephew, Chip. All are Wake Forest alumni. Keith Stamey, who was president of Stamey's Barbecue Inc. at the time of his death, grew up in Lexington, where his father owned a barbecue restaurant.
"Keith really considered Wake Forest to be part of his family," Chip Stamey said.
Stamey's estate gift has been received in support of Wake Forest's $450 million capital campaign, which is expected to continue until 2006. University officials expect the campaign to play an important role in preserving the accessibility of the university to students dependent on financial assistance.
The campaign is designed to raise endowment for student scholarships and faculty support, as well as to meet other university needs, such as ongoing operating expenses. At this point, the campaign has raised $277 million. Of that amount, the Reynolda Campus has raised $144 million, and the School of Medicine has raised $133 million.
Categories: University Announcement
Subscribe
Sign up for weekly news highlights.
Subscribe