Main Content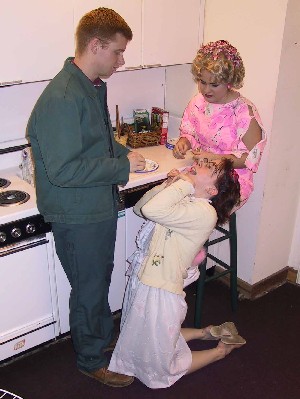 Wake Forest University Theatre will perform "The House of Blue Leaves" beginning Oct. 3 at 7:30 p.m. at the MainStage Theatre in Scales Fine Arts Center.
Evening performances will run through Oct. 6, with a Sunday matinee performance at 2 p.m. on Oct. 7.
Tickets are $12; $5 for students. They can be purchased at the door or by calling the Wake Forest Theatre Department at 336-758-5294.
Directed by J.K. Curry, "The House of Blue Leaves" is set against the backdrop of the Pope's first visit to the United States in 1965. Artie Shaughnessy, the play's main character, is a zookeeper and aspiring songwriter who takes a shot at the American dream of fame and fortune. He is unaware that his son has gone AWOL and has a plan to harm the Pope.
John Friedenberg, director of Wake Forest Theatre, said even though the play was chosen nearly a year ago, it takes on a more topical and relevant meaning in light of the terrorist attacks on America Sept. 11.
"Pain and humor juxtaposed can bring us to look at surrounding events in fresh ways," Friedenberg said. "Theatre, because it is a group experience, can guide, reinforce and ease that process."
One critic said, "The playwright sees his characters sympathetically, as helpless victims of a society in which movie stars and the Pope are indistinguishable media gods, in which television is a shrine, in which assassins are glorified in headlines."
Written by John Guare, "The House of Blue Leaves" is winner of the 1971 Critics Award and the Obie Award as Best American Play.
For more information, visit the Wake Forest Theatre Department's Web site, www.wfu.edu/Academic-departments/Theatre.
Categories: Arts & Culture, Events
Subscribe
Sign up for weekly news highlights.
Subscribe