Main Content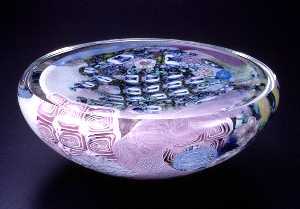 The North Carolina Arts Council Artist Fellowship Exhibition opens at Wake Forest University on Oct. 26.
The show runs through Jan. 29 in the Charlotte and Philip Hanes Art Gallery of Scales Fine Arts Center. An opening reception will be held Sunday, Oct. 28 from 3-5 p.m.
The exhibition includes the work of 22 North Carolina artists and provides an overview of current contemporary art in North Carolina.
"This year's exhibition presents a surprising range of work-diverse in media, content, and expression-serving as a microcosm of the contemporary art world at large," said Linda Dougherty, guest curator of the exhibit.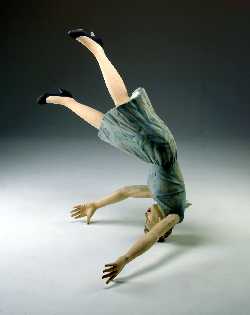 Victor Faccinto, coordinator of the exhibition and director of Wake Forest's Charlotte and Philip Hanes Art Gallery, is one of three Winston-Salem artists represented in the show. The other two local artists are Cameron Dennis and Terri Dowell Dennis.
Representing towns across North Carolina, each of the artists received a 2000-2001 Artist Fellowship grant from the N. C. Arts Council.
The diverse group ranges from Richard Ritter, a glass artist from Bakersville to Ann Harwell, a textile artist from Wendell.
Curtis Gaston's documentary films focus on specific issues such as the rise and fall of a football star, the plight of the tobacco farmer and the battle over flying the Confederate flag in South Carolina. Jim Haverkamp's black-and-white films are inspired by comic books, family history and everyday events.
Three photographers are included in the show. David Simonton has visited 223 towns in North Carolina to capture images he uses in abstract black-and-white compositions. Since 1994, photographer Cameron Dennis has taken photographs in a 10-mile area between Grandfather Mountain and Lenoir. His piece, "Trestle Support Near Mortimer" is included in the show. Susan Page prints digital images on silk banners.
Two artists, Nancy Baker and Jeffrey Murphy, draw upon technology and electronic imagery in their work. David Solow's light box transparencies incorporate images of urban decay.
Mollie Doctrow's black-and-white woodcuts are based on a series of trips to Jocassee Gorges, a new state park in western North Carolina. Robert Johnson and Linda FitzSimons also draw on natural landscapes to create their paintings.
Installation artist Bryant Holsenbeck uses recycled objects, such as left shoes and credit cards cut in half, to comment on society's materialism and waste. Furniture artist Jenna Goldberg makes cabinets, tables and vanities covered with abstract designs and patterns of animals and flowers. Sculptor Bob Trotman creates carved wood sculptures of anonymous people. Terri Dowell-Dennis takes traditional crafts and ordinary objects and transforms them into works offering commentary on issues of identity, religion, race and mythology.
Amy Forsyth's work includes a pair of upholstered shoes that make their own music when you walk or dance in them. Leon Dockery's monumental sculptures combine natural materials with found objects. Jim Hirschfield and Sonya Ishii collaborate on large-scale public art works.
Admission is free. Gallery hours are Monday through Friday, 10 a.m. – 5 p.m. and weekends, 1 – 5 p.m. Group tours can also be arranged be calling the gallery. For information, call 336-758-5585.
Editor's note: High-resolution photos of selected pieces in the show are available by e-mail from the News Service.
Categories: Arts & Culture, Community, Events
Subscribe
Sign up for weekly news highlights.
Subscribe