Main Content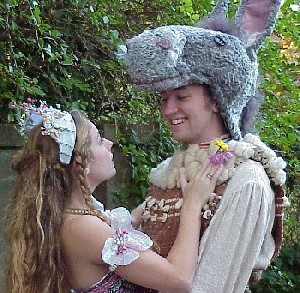 The Wake Forest University Theatre Department will present "A Midsummer Night's Dream" Nov. 7-11 in the MainStage Theatre in Scales Fine Arts Center.
The production will feature original music composed by Wake Forest students Mike Albanese, Jacob Morris and Brooke Watson. They will perform the pieces live on stage as they play members of the fairy world in the production.
Directed by Sharon Andrews, assistant professor of theatre, "Midsummer" is Shakespeare's famous tale of love and magic, and the dreamscape where the two meet. Set in medieval Ireland, the play shows what happens when four young lovers and a troupe of rustic tradesmen journey deep into a magical wood. There, they find themselves at the mercy of a mighty feud between the king and queen of the fairies.
Jonathan Christman, assistant professor of theatre, designed the sets and lighting for the production. Lisa Weller, costume shop manager for the theatre department, designed elaborate ensembles for this production. Nina Lucas, the director of dance at Wake Forest, choreographed several pieces for the show, including a sensual dance for the fairy king and queen, Oberon and Titania, and a rousing group folk dance.
Evening performances will begin at 7:30 p.m. on Nov. 7-10. Matinees will also be held at 2 p.m. on Nov. 10 and 11.
The Collegium Musicum will perform in the MainStage Theatre lobby before performances on Nov. 7-9.
Tickets are $12 for adults and $5 for students. They can be purchased in advance through the University Theatre Box Office at 336-758-5295.
Categories: Arts & Culture, Events
Subscribe
Sign up for weekly news highlights.
Subscribe