Main Content
NEWS SERVICE CLOSED MONDAY— The News Service will be closed on Monday, Jan. 21, in observance of the Martin Luther King Jr. holiday.
REPARATIONS ADVOCATE TO SPEAK AT WFU MONDAY— Leading reparations advocate David L. Horne will present "Evolutionary Progress through Revolutionary Awareness" at 7:30 p.m. on Jan. 21 in Wait Chapel. The speech is part of Wake Forest University's Martin Luther King Jr. Day celebration. Photographers can set up along the stairs to the right of the stage. To arrange an interview with Horne in advance, contact Vanessa Willis at willisv@nullwfu.edu or 336-758-5237.
KONICA CEO TO SPEAK AT BABCOCK SCHOOL— Robert L. Harris Jr., president, chief operating officer and treasurer of Konica Manufacturing U.S.A. Inc., will present "Unique Challenges of Foreign-Owned U.S. Subsidiaries" today at 2 p.m. in the Worrell Professional Center Room 1312. The lecture is part of the Babcock Leadership Series at Wake Forest's Babcock Graduate School of Management. To arrange an interview with Harris, contact Eric Whittington at eric.whittington@nullmba.wfu.edu or 336-758-5030.
WFU SERVICE GROUP MAKES DIFFERENCE IN MEXICO CITY—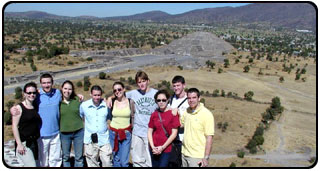 The City of Joy Scholars returned from Mother's Teresa's Missionaries of Charity home in Mexico City Jan. 13 having received infinitely more than they gave, says Jay Ford, assistant professor of religion and staff leader for the group. "Some of the residents were pretty much emotionally unresponsive," he says. "But a smile here, a laugh there, or even a clutch of the hand was incredibly joyful and rewarding." Ford was especially moved by Lupita, a female resident in the home who had no use of her arms. "Lupita was an accomplished artist and gave each of us a card on our last day with intricate drawings of angels all done with her toes," he says. "She was a unique inspiration." To arrange an interview with Ford or the students, contact Sarah Smith at manselss@nullwfu.edu or 336-758-5237.
Categories: Events, Speakers, Student, University Announcement
Subscribe
Sign up for weekly news highlights.
Subscribe