Main Content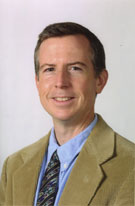 Stephen L. Whittington has been named director of the Wake Forest University Museum of Anthropology.
Whittington began Aug. 1. He has also been appointed an adjunct associate professor of anthropology at Wake Forest.
Previously, Whittington served for 11 years as director of the Hudson Museum at the University of Maine, a museum similar in size and mission to Wake Forest's museum.
In addition to his work with museums, Whittington's specialty is bioarchaeology. He studies human skeletons to reconstruct the health, diet and social structure of ancient populations. He has published several journal articles and co-edited a book about the ancient Maya of Guatemala, Honduras and Mexico. Most recently, Whittington's field research has taken him to a remote region of Oaxaca, Mexico, to search for sites occupied more than 500 years ago by members of the Mixtec culture.
He earned a master's degree and doctorate in anthropology from the Pennsylvania State University and a bachelor's degree from the University of Chicago.
Whittington has been vice president of the Maine Association of Museums and vice chair of the Maine State Museum Commission. He is a member of the Society for American Archaeology.
The Wake Forest Museum of Anthropology is open from 10 a.m. to 4:30 p.m. Tuesday through Saturday. Admission is free. For information, call 336-758-5282.
Categories: Arts & Culture, Faculty, University Announcement
Subscribe
Sign up for weekly news highlights.
Subscribe