Main Content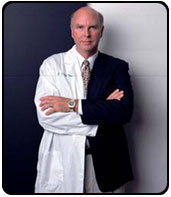 J. Craig Venter, a leader in the race to decode the human genome, will be the featured speaker at Wake Forest University's Opening Convocation Oct. 10 at 6 p.m. in Wait Chapel.
At the convocation, Wake Forest President Thomas K. Hearn Jr. will honor two alumni with the Marcellus E. Waddill Excellence in Teaching Awards. The $20,000 awards are given annually to one primary school and one secondary school teacher who graduated from Wake Forest.
The university will also present the Jon Reinhardt Award for Distinguished Teaching and the Donald O. Schoonmaker Faculty Award for Community Service to two faculty members.
Venter's keynote address, "Sequencing the Human Genome: Gateway to a New Era in Science and Medicine," is part of the university's Year of Health and Medicine, which celebrates the Centennial of Wake Forest's School of Medicine.
The program is free and open to the public. For more information, visit www.wfu.edu.
Celera Genomics, founded by Venter in 1998, challenged the government's official Human Genome Project to a race to be the first to map the human genome sequence. That challenge is credited with creating the climate of urgency that spurred competition and accelerated the project to successful conclusion.
Celera published the assembled human genome sequence on Feb. 16, 2001, in the journal "Science."
Venter left Celera in January of this year to start two new institutes, including the Institute for Biological Energy dedicated to studying the possibility of genetically engineering microbes to produce energy and help clean to environment.
"Craig Venter is one of the most dynamic contributors to medical science today, and he's a perfect speaker to help us set the tone for celebrating the medical school's Centennial," said Richard H. Dean, president and chief executive officer of Wake Forest University Health Sciences.
Subscribe
Sign up for weekly news highlights.
Subscribe