Main Content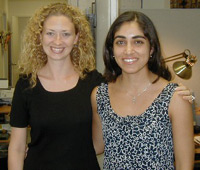 Layli Miller-Muro, executive director and founder of the Tahirih Justice Center (TJC), will speak Feb. 26 at 8 p.m. in Wake Forest University's Wait Chapel. The event is free and open to the public.
The center is a non-profit organization dedicated to protecting women from human rights abuses through the provision of legal aid and social services. Before opening the TJC, Miller-Muro was an international litigation lawyer as well as a U.S. Department of Justice attorney at the Board of Immigration Appeals.
Her appearance at Wake Forest is sponsored by several Wake Forest student groups led by juniors Christen Sewell and Rosita Najmi. Najmi used a grant from the university's Pro Humanitate Fund to do an internship with the TJC during the summer of 2002.
She has led a fund-raising campaign for the Feb. 26 event, the proceeds of which will be donated to the TJC. She is seeking help from the local community in meeting the group's $10,000 goal. That amount would pay for TJC's organizational expenses for nearly three months, Najmi said.
While still in law school, Miller-Muro made legal history when she helped argue for the recognition of female genital mutilation as a basis for asylum in the United States, now a legal precedent.
Miller-Muro later helped write a book about the case and a young woman's fight for freedom and personal rights called "Do They Hear You When You Cry," published in 1998. It has subsequently been published in 14 different languages,an audio version has been recorded and Abandon Entertainment has bought the movie rights.
The TJC was opened with Miller-Muro's share of the proceeds from the sale of the book. She and Fauziya Kassindja, her history-making client, will sign copies of the book during the Wake Forest visit.
Miller-Muro will be signing copies of her book, "Do They Hear You When You Cry?" Feb. 27 from 10 a.m. to 11 a.m. in the College Bookstore on campus. The book will be on sale all week in the bookstore, and a short signing and reception period will follow Miller-Muro's Feb. 26 appearance. For additional information regarding the book signing, call 336-758-5142.
For more information about the event or how to contribute, contact Najmi at 336-758-3758 or najmr0@nullwfu.edu.
Subscribe
Sign up for weekly news highlights.
Subscribe