Main Content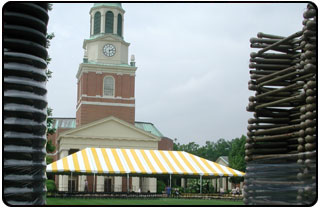 Michael R. Bloomberg, mayor of New York City and founder of the information services, news and media company Bloomberg L.P., will deliver Wake Forest University's 161st commencement address and receive an honorary doctor of laws degree May 19. The title of Bloomberg's speech is "The Choice Is Yours."
Approximately 1,478 undergraduate and graduate students will receive diplomas at the 9 a.m. outdoor ceremony on Wake Forest's University Plaza (the Quad).
The ceremony will be taped by C-SPAN as part of a commencement feature to be broadcast at a later date. The 9 a.m. ceremony will also be broadcast live on the Internet at www.wfu.edu/alumni/graduation. In the event of rain, the ceremony will be moved to Lawrence Joel Veterans Memorial Coliseum and will not be available on the Internet. If moved to the coliseum, the ceremony will begin at 9:30 a.m.
WFDD (88.5 FM) will broadcast Bloomberg's entire speech and excerpts from the ceremony May 19 at 8 p.m.
Douglass Bailey, associate professor of urban ministry at Wake Forest's Divinity School and executive director of the university's Center for Urban Ministry, will deliver the baccalaureate address during commencement weekend at 11 a.m. May 18 in Wait Chapel.
The commencement and baccalaureate ceremonies are not open to the public. Parking passes and tickets are required to enter campus and attend the events. Tickets are reserved for graduates and their guests.
In addition to Bloomberg, Wake Forest will award four other honorary degrees during the commencement ceremony. Richard Carmona, 17th surgeon general of the United States, and Eric Olson, chairman of molecular biology at the University of Texas Southwestern Medical Center and a graduate of Wake Forest, will both receive honorary doctor of science degrees. Martha W. Barnett, partner in the law firm Holland & Knight and chair of the firm's directors' committee, will receive an honorary doctor of laws degree; Martin E. Marty, author, theologian and the Fairfax M. Cone Distinguished Service Professor Emeritus at the University of Chicago Divinity School, will receive an honorary doctor of divinity degree.
Approximately 863 undergraduate students will receive bachelor's degrees during commencement. A combined 615 graduate and professional school students from Wake Forest's Graduate School of Arts and Sciences, School of Law, School of Medicine, Babcock Graduate School of Management, and Divinity School will receive degrees.
Each graduate and professional school will hold a ceremony to recognize its students' achievements and present them with their school's hood prior to commencement. The graduates wear the colorful hoods with their caps and gowns during the commencement ceremony.
The Divinity School's hooding ceremony will be at 7 p.m. May 17 in Wait Chapel. Brad R. Braxton, Jessie Ball duPont Assistant Professor of Homiletics and Biblical Studies at Wake Forest, and Jill Crainshaw, associate dean for vocational formation and assistant professor of ministry studies, will speak at the ceremony.
The School of Law will hold its hooding ceremony at 1:45 p.m. May 18 in Wait
Chapel. Barnett will deliver the hooding address.
The Graduate School will hold its hooding ceremony May 18 at 3 p.m. in Scales Fine Arts Center's Brendle Auditorium. Dr. Max Gomez, medical reporter for television station WNBC in New York, will deliver the hooding address.
The hooding ceremony for the School of Medicine will be at 4:15 p.m. May 18 in Wait Chapel. Carmona will deliver the hooding address.
The Babcock School of Management hooding ceremony will be at 7 p.m. May 18 in Wait Chapel. The speaker for the ceremony will be Jerry D. Neal, co-founder and executive vice president of marketing and strategic development for RF Micro Devices Inc.
Categories: Commencement, Events, Media Advisory, University Announcement
Subscribe
Sign up for weekly news highlights.
Subscribe