Main Content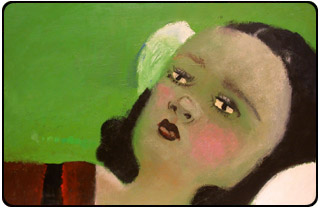 "Pixerina Witcherina," an exhibition featuring contemporary women artists who address the complex history of women and storytelling, will open Aug. 26 at the Charlotte and Philip Hanes Art Gallery on the campus of Wake Forest University.
The exhibit runs through Oct. 10.
The title of the exhibit was taken from an invented language used by British author Virginia Woolf to share secrets with her niece. It refers to the polarization of women's roles in fairy tales as either innocent, flirtatious "pixies" or evil, plotting "witches."
"Pixerina Witcherina" is "both about the youth-culture of Future Goddesses and about the shared subversive culture of women, old and young," wrote Bill Conger in the exhibit catalog. Conger is the curator of the exhibit, which was originally presented at the University Galleries at Illinois State University.
Work by twelve artists will be included in the Wake Forest show. Several artists incorporate photography in their work, including Meghan Boody in "Psyche's Tail," a depiction of a young girl, "Psyche," as she encounters her alter ego, Smut.
Other photographs in the show include Tracey Moffatt's "Invocations 9" and two untitled works by Margi Geerlinks.
A large-scale oil painting by Julie Heffernan, "Self Portrait as Radiant Host," is included in the show. Elena Sisto's "Snow White" conveys her vision of the well-known fairytale character using oil on linen.
Other represented artists use various media, including acrylic on canvas, gouache on paper and oil on panel.
The exhibit is free and open to the public. Gallery hours are 10 a.m. to 5 p.m., Monday through Friday and 1 – 5 p.m. on Saturdays and Sundays. Visit www.wfu.edu/art or call 336-758-5585 for more information.
Categories: Arts & Culture, Events
Subscribe
Sign up for weekly news highlights.
Subscribe