Main Content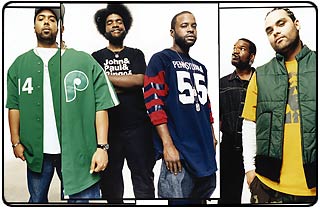 Featuring songs from their latest recording, "The Roots Come Alive," The Roots will give Wake Forest University a complete hip-hop sound experience with crisp drums, vibrating bass and intense keyboard sounds at Wait Chapel on Sept. 19 at 8 p.m. Doors will open at 7 p.m.
A band that touts an original, intellectual hip-hop style, The Roots tours at least 250 nights a year and has been wildly popular at concert venues, campuses and festivals around the world. They performed "Lose Yourself" with Eminem at the 45th annual Grammy Awards in February and just returned from a summer touring across Europe and performing at several jazz festivals, including the Montreux Jazz Festival in Switzerland.
Not the typical radio station hip-hop band, The Roots has been described as a well-refined, live jazz/hip-hop/rock/fusion band that has mastered the art of live performance.
The Roots began performing for crowds in 1992 on South Street in Philadelphia. Known for their free-styling crowd routines, they soon moved to clubs, where they honed their ability to read audiences and convince sometimes-frightened club owners that hip-hop musicians could be serious musicians.
Student tickets went on sale starting Aug. 28 in the Benson University Center ticket office. Tickets are $22.50 with Wake Forest ID.
Tickets for the public will be available through all Ticketmaster locations or www.ticketmaster.com beginning Aug. 30 at 10 a.m. Cost is $27.50.
For concert information, call 336-758-4869. For more information on The Roots, visit www.theroots.com.
Categories: Arts & Culture, Events
Subscribe
Sign up for weekly news highlights.
Subscribe