Main Content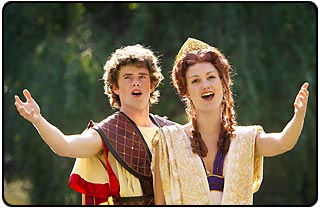 With an all-student cast, chorus and orchestra, Wake Forest University's department of music will unfold the story of two lovers and their torment in its first fully staged opera, "Dido and Aeneas" Oct. 24 and 25 at 8 p.m. at Brendle Recital Hall in Scales Fine Arts Center.
"Dido and Aeneas" is one of only a handful of English operas in the standard repertoire. It was written by Henry Purcell, the leading English composer of the 17th century and was his only "true" opera. The libretto was written by Nahum Tate. Although the date of the first performance of "Dido and Aeneas" is unknown, historical records indicate that the opera may have been first performed in 1689 at Josias Priest's boarding school for young gentlewomen in Chelsea, England.
Taken from Virgil's "Aeneid," the story begins with Aeneas departing from fallen Troy with a band of warriors to found a "second Troy" in Italy. Aeneas lands on the coast of North Africa, near Carthage, where the widowed Queen Dido welcomes him and his fleet. Dido and Aeneas soon fall in love, but Dido has taken a vow of chastity after her husband's death, and she mistrusts her feelings as well as Aeneas' faithfulness.
In the libretto, Tate takes artistic liberties with Virgil's original story. He incorporates character changes, using witches instead of mythological figures to plan Dido's downfall, and changes scenes in ways that some scholars believe were meant to teach moral lessons to the girls at Priest's school.
Wake Forest's production stars senior Rebecca Newby as Queen Dido and senior Joseph Hipps as Aeneas, the Trojan prince.
The play is directed by James Dodding, professor of theatre, with assistance from Wake Forest faculty members: David Hagy, conductor; Stewart Carter, producer; Leah Roy, assistant director; Teresa Radomski, singing director; Brian Gorelick, choral director; and Patricia Mueller, costume designer.
Tickets go on sale at the Theatre Box Office Oct. 6. Tickets cost $5 for students and $10 for faculty, staff and the general public.
For information call the Theatre Box Office 336-758-5295.
Categories: Arts & Culture, Events
Subscribe
Sign up for weekly news highlights.
Subscribe