Main Content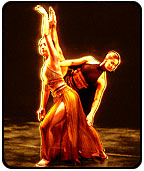 The Wake Forest University Dance Company will present the Fall Faculty and Guest Artist Concert Nov. 20-22 at 7:30 p.m. and Nov. 23 at 2 p.m. in the Main Stage Theater of Scales Fine Arts Center.
The concert will feature works by four members of the Wake Forest dance faculty and two guest choreographers.
Diann Sichel, who joined the Wake Forest dance faculty this fall, has created "Rosa, Rosa, Rosa," a dance piece for 11 women based on her travels in Spain. It is set to the music of pop Spanish musician Manuel Ruitz and classical guitarist Roberto Lara. Her second piece, "A String of Wednesdays," is a solo piece that will be performed by Meaghan Lynch, a Wake Forest freshman. The suspended sculptural set was designed by New York artist Cris Cristofaro.
Brantly Bright Shapiro, a lecturer at Wake Forest, teaches ballet for the university and for the Wake Forest Community Ballet Program. She has staged Arthur Saint-Leon's ballet "Markitenka Pas de six" with music by Cesare Pungi. Nina Lucas, the director of the Wake Forest Dance Company, and Fachon Cordell, who teaches at the North Carolina School of the Arts and Wake Forest, have also choreographed new works for the performance.
"Working It!" a jazz piece choreographed by guest choreographer Tina Yarborough, incorporates jazz, hip hop, tap and ballet. "The mood is funky and fun," Yarborough says. In addition to teaching, she is the artistic director of Otésha Creative Arts Ensemble, a professional African-American Dance Company based in Winston-Salem.
A modern dance work, "Push-pull," choreographed by Trish Casey, who teaches in the contemporary dance program at the North Carolina School of the Arts, was created to "increase the dancers' kinetic and spatial awareness." Six dancers from the Wake Forest Dance Company will perform the piece.
Lisa Weller, Wake Forest's costume studio supervisor, designed the costumes and Jonathan Christman, assistant professor of theatre, designed the lighting.
Tickets are $10, $5 for students and senior citizens. They may be purchased beginning Nov. 10 at the box office at 336-758-5295. The box office is open weekdays, noon-5:00 p.m. For more information, call 336-758-5393.
Categories: Arts & Culture, Events
Subscribe
Sign up for weekly news highlights.
Subscribe