Main Content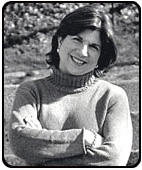 Pulitzer Prize-winning journalist and best-selling author Anna Quindlen will give the Founders' Day Convocation address at Wake Forest University at 11 a.m. Feb. 19 in Wait Chapel. The event is free and open to the public.
During the ceremony, the university will recognize the field hockey team, which won its second consecutive NCAA Championship in 2003. Quindlen's talk is offered as part of the university's ongoing celebration of the 2003-2004 theme "Fostering Dialogue: Civil Discourse in an Academic Community." The theme is dedicated to the exploration of how free people with passionate interests and beliefs can communicate openly without turning dialogue into discord.
Quindlen, a novelist who has written both fiction and non-fiction books, has published work in some of America's most influential newspapers and most widely read magazines during the past 25 years. She writes the prestigious "Last Word" column in Newsweek magazine, and her latest novel, "Blessings," is a New York Times best seller. The book was recently made into a television movie starring Mary Tyler Moore.

Quindlen, a columnist at The New York Times from 1981 to 1994, became only the third woman in the paper's history to write a regular column for its Op-Ed page in 1990. The column, "Public and Private," was nationally syndicated, and a collection of those columns titled "Thinking Out Loud" was published by Random House in 1993. The book was on the New York Times Best Seller List for more than three months. Quindlen won the Pulitzer Prize for commentary in 1992.
Quindlen, who joined the Times in 1977 as a general assignment reporter, was named the paper's deputy metropolitan editor in 1983. She wrote the "About New York" column from 1981 to 1983 and created the column "Life in the 30's" in 1985.
Quindlen left newspapers in 1995 to become a full-time novelist. She has written four best-selling novels, including "Object Lessons," "One True Thing," "Black and Blue," and "Blessings." "One True Thing" was made into a Universal feature film starring Meryl Streep and Rene Zellweger.
Her novel "Black and Blue," which was chosen for Oprah's Book Club, spent six months on The New York Times Best Seller List and was made into a television movie. With the release of "A Short Guide To A Happy Life" in 2000, Quindlen became the first writer to have books appear on the fiction, nonfiction and self-help New York Times Best Seller lists.
She is also the author of a collection of essays, "Living Out Loud," and two children's books, "The Tree That Came To Stay" and "Happily Ever After." She also wrote the text for the coffee table pictorial "Naked Babies" and "Siblings."
Quindlen is a graduate of Barnard College and was elected chair of Barnard's board of trustees in 2003.
Categories: Speakers, University Announcement
Subscribe
Sign up for weekly news highlights.
Subscribe