Main Content
Lee Knight, Hylton Professor of Accountancy at Wake Forest University, is one of the most prolific researchers in her field, according to a recent study. Knight teaches in Wake Forest's Calloway School of Business and Accountancy and is the director of the school's accountancy program.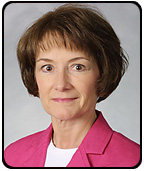 The study, "Prolific Authors of Accounting Literature," was published in the 2003 edition of the journal "Advances in Accounting." It analyzed 40 academic and professional journals from 1967-2001 and identified the most prolific authors and their productivity records. Knight was credited with writing 43 articles in the selected journals since earning her doctorate in 1981. She ranked second among colleagues who received their doctorate that year and tied for seventh overall.
"This study is one of the first to use a comprehensive database to evaluate the research productivity of accounting professors," says Knight, who co-authors many of her papers with her husband, Ray Knight, a certified public accountant in Winston-Salem. "The study not only honors those listed, but also offers benchmark data for establishing research expectations for accounting faculty."
Knight's recent research projects include succession planning in family businesses, mutual fund redemptions and avoiding penalties on early withdrawals of retirement funds. She received a Bachelor of Science degree in accountancy from Western Kentucky University and master's and doctoral degrees in accountancy from the University of Alabama.
The Calloway School is ranked 21st among the nation's top undergraduate business programs and 15th in accounting programs by U.S. News & World Report. Graduates of the Calloway School, which offers both a master's and bachelor's in accounting, have ranked first or second in the nation in CPA passage rate for the past five years.
Categories: Faculty, Recognition, University Announcement
Subscribe
Sign up for weekly news highlights.
Subscribe