Main Content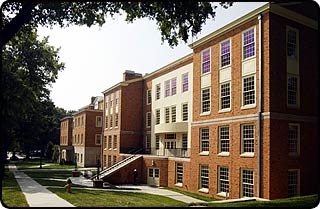 Wake Forest University's Calloway School of Business and Accountancy will dedicate its new, $14 million building during a 4:30 p.m. ceremony April 1 in the building's atrium. Kirby Hall, named after a $5 million donation from the F.M. Kirby Foundation, opened in August. The ceremony is open to the public.
Groundbreaking for the 57,000-square-foot facility was held Oct. 4, 2001. It is part of the newly named Calloway Center for Business, Mathematics and Computer Science which also consists of West Hall, home to the math and computer science departments. Kirby Hall, with its modern classrooms and offices, will also be home to the Center for Undergraduate Entrepreneurship.
Murray Greason, chairman of the Wake Forest Board of Trustees, will preside during the dedication ceremony. Also speaking during the ceremony will be Alice Kirby Horton, a director of the F.M. Kirby Foundation and a Wake Forest trustee; Jan Calloway, widow of the late Wayne Calloway for whom the school was named in 1997; Jack Wilkerson, dean of the Calloway School; Sheri Bridges, associate professor of marketing in the Calloway School; and Gabriel Schulze, a student in the Calloway School.
Three of the four PepsiCo Inc. chairmen for which the building's entry bridge is named will also be present. The Four Chairmen's Bridge, an arched walkway with wrought iron railing, is named for Donald M. Kendall, PepsiCo's co-founder; Roger Enrico, former chairman of the board and chief executive officer; Steven S Reinemund, current chairman of the board and chief executive officer; and the late Wayne Calloway, a 1959 Wake Forest graduate who was chairman and CEO of PepsiCo and a former chair of Wake Forest's board of trustees. Enrico will also be a speaker during the ceremony.
A landscaped area called Reynolda Park is being developed outside Kirby Hall that will feature brick sidewalks, additional trees and benches.
The Calloway School, ranked 21st among all undergraduate business programs by U.S. News & World Report, is the largest undergraduate program at Wake Forest. Its accounting program is ranked 15th, and graduates of the school are consistently ranked among the top in the nation for CPA exam passage rate. The school's entrepreneurship program, ranked 16th by U.S. News & World Report, was instrumental in Wake Forest being named a Kauffman Campus by the Ewing Marion Kauffman Foundation in December. The honor came with a $2.16 million grant to further entrepreneurship in the liberal arts.
Categories: School of Business, University Announcement
Subscribe
Sign up for weekly news highlights.
Subscribe