Main Content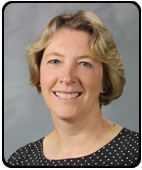 Lynn Sutton has been named director of the Z. Smith Reynolds Library at Wake Forest University. She starts her new position Aug. 1.
Previously, Sutton served for five years as interim associate dean and eventually associate dean of the library system at Wayne State University in Detroit.
While at Wayne State, Sutton also served for seven years as director of the Science and Engineering Library and five years as director of the university's David Adamany Undergraduate Library. Sutton, who was the first director of the undergraduate library at Wayne State, oversaw the planning, design and operation of the new $37 million, 300,000-square-foot facility.
Ken Zick, vice president for student life and instructional resources at Wake Forest, said Sutton's considerable experience and varied background were major factors in her appointment.
"Lynn Sutton appreciates the challenges of leading a library in a comprehensive university setting," Zick said. "Her experience in planning and designing a new undergraduate library and also directing a science and engineering library and medical libraries made her a particularly attractive candidate. She understands the centrality of the liberal arts experience in the context of a research-oriented academic environment.
Lynn is a leader who combines extensive administrative experience and a sense of creative vision with an enthusiasm for assuring that the needs of students and faculty are met in an inviting library environment."
Claudia Kairoff, associate dean of the undergraduate College and chair of the library director search committee, echoed Zick's sentiments when she said Sutton distinguished herself during the search process because of her extensive experience.
"Lynn emerged as the top choice of the search committee, as well as of the staff, vice presidents and deans who met with her on campus," Kairoff said. "The faculty rated her highly due to her experience as director of the Wayne State Science and Engineering Library, as well as in several hospital libraries, giving her valuable research-support experience. As founding director of Wayne State's first-ever undergraduate library, she presided over the planning and construction of a truly innovative facility. And, not least, she charmed everyone she met with her friendly, down-to-earth demeanor."
In addition to her work at Wayne State University, Sutton served for almost 10 years as corporate director of libraries for Detroit-Macomb Hospital Corp. She has published articles on the suppression of speech by the United States government and on intellectual freedom. She serves on the American Library Association's Intellectual Freedom Committee.
She earned a Bachelor of Arts in classical Greek and a Master of Arts in Library Science from the University of Michigan. She is a candidate for a doctorate in education leadership and policy studies. She is a 1999 recipient of the Wayne State University President's Exceptional Service Award.
Sutton succeeds Rhoda Channing, who died in 2003.
Categories: Faculty, University Announcement
Subscribe
Sign up for weekly news highlights.
Subscribe