Main Content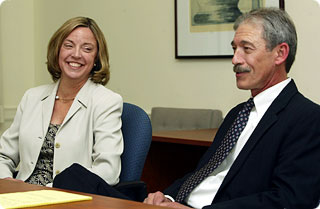 Wake Forest University has appointed Professor of Psychology Deborah L. Best as dean of the College. The College is the undergraduate school of arts and sciences at Wake Forest.
Wake Forest Provost William C. Gordon announced Best's appointment during a press briefing at the university May 4.
Best, a Wake Forest graduate who joined the university faculty in 1972, is Wake Forest's first female dean of the College. She will begin serving as dean July 1.
She served as chair of Wake Forest's psychology department from 1994 to 2002. During her tenure at the university, Best has won numerous awards, including the 1984 Excellence in Teaching Award, the 1986 Excellence in Research Award, the William C. Archie Faculty Excellence Award in 1986 and 1988, and the 1994 Schoonmaker Faculty Prize for Community Service.
"Professor Best is an absolutely ideal person to serve as dean of the College at Wake Forest," Gordon said. "The awards she has received for excellence in teaching, in research, and in public service make clear that she exemplifies the very best qualities of our faculty. She has proven herself to be an exceptional leader both as a department chair and in national professional organizations. And, as a longtime member of the Wake Forest community, she brings with her a thorough knowledge and understanding of the university's past and the future challenges it faces."
Best received her bachelor's and master's degrees in psychology from Wake Forest and earned a doctorate in developmental psychology from the University of North Carolina at Chapel Hill.
She has published numerous articles, books and book chapters on topics related to gender stereotypes, cross-cultural psychology and cognitive development in young children. She has served as the president of the International Association for Cross-Cultural Psychology and is the associate editor of the Journal of Cross-Cultural Psychology.
Best is currently the lead researcher on a project for Habitat for Humanity of Forsyth County called the "Digital Bridge Initiative." The project examines the effect of providing computers to children living in Habitat for Humanity homes. She is also a longtime board member at the Special Children's School, a non-profit developmental day school in Winston-Salem for children ages 6 months to 7 years.
"I know Wake Forest well both from a student perspective and from a faculty perspective," Best said. "As dean, I will continue to strengthen Wake Forest's academic programs and create new opportunities for our students as the academic world changes over the coming years."
Best will succeed Paul Escott, who has been dean of the College since 1995. Escott will remain at the university as Reynolds Professor of History.
Categories: Faculty, University Announcement, Wake Forest College
Subscribe
Sign up for weekly news highlights.
Subscribe