Main Content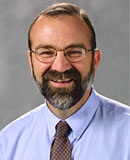 Mark E. Welker has been named associate provost for research at Wake Forest University.
Since last year, Welker had held the post on an interim basis. His permanent appointment was effective July 1.
Welker will remain Wake Forest Professor of Chemistry while serving in the half-time position of associate provost for research.
Provost William C. Gordon created the position last year after receiving a proposal from Wake Forest's Research Advisory Council and suggestions from faculty members. Welker, who joined the university's faculty in 1987, has chaired the council and worked as a program officer at the National Science Foundation. Last year, North Carolina Gov. Mike Easley appointed Welker to the North Carolina Board of Science and Technology.
"Mark Welker is an ideal person to serve as associate provost for research at Wake Forest. He is a true teacher-scholar, who understands the scope and direction of research activities on the national scene and who deeply appreciates the unique importance of research and scholarship on this campus," Gordon said. "During his term as interim associate provost, Mark has done an exceptional job of supporting and facilitating the research and scholarly work of Wake Forest faculty and students."
The position is responsible for such activities as:
Assessing and improving the university research infrastructure
Aiding in the development of external funding opportunities that would support research, scholarship and creative work on the campus
Developing mechanisms that would encourage greater student involvement in research, scholarship and creative activities
Facilitating scholarly collaborations across departmental and school boundaries
Facilitating the publication or exhibition of faculty and student work
Serving as campus-side advocate for the teacher-scholar model
"My goal is to be an enabler for faculty research and creative activity," Welker said. "I want to be a person who helps them to write effective proposals to the most appropriate funding sources for internal and external funds, enables collaborations and new collaborative proposals, and gets them to think about ways they can facilitate scholarly activities in their departments and schools."
Since joining the faculty, Welker has been named a Wake Forest Professor, an endowed professorship. He received a Bachelor of Science degree in chemistry at the University of North Carolina at Chapel Hill and a doctorate in organic chemistry at Florida State University. He was a post-doctoral fellow at the University of California at Berkeley.
Categories: Faculty, University Announcement
Subscribe
Sign up for weekly news highlights.
Subscribe