Main Content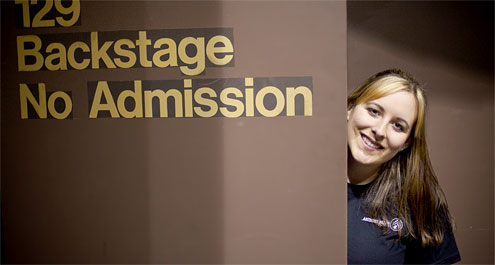 Brittni Shambaugh, a junior theatre major from Sneads Ferry, N.C., is a member of the Anthony Aston Players, a student theatre group, and director of the group's upcoming play, "Death and the Maiden," to be performed Feb. 5, 6 and 7 in the Ring Theatre in the Scales Fine Arts Center. The play, by Ariel Dorfman, is a dramatic thriller about Paulina, a woman who believes that a stranger who comes to her home is the man who tortured and raped her many years before under a military dictatorship.
When did you first become interested in theatre?
I have been doing theatre since kindergarten. My first big production was "Joseph and the Amazing Technicolor Dreamcoat" when I was 7 with the Opera House Theatre Company in Wilmington, N.C.
Why did you decide to be a theatre major?
I came to Wake Forest on a Presidential Scholarship for Theatre, so I knew I wanted to be very involved, but I wasn't positive that I wanted to be a theatre major until sophomore year. The people in the theatre department love what they are doing and that passion is contagious. The major is challenging, because you have to learn the inner workings of the theatre on many different levels. We take classes on designing, acting and directing, theatre history and theatre literature. It is fantastic, though, because majors leave Wake Forest with a broad knowledge of theatre, which is definitely an advantage in the career world.
What do you plan to do after graduation?
I plan to move to Chicago and try to experience the "real world" a little bit, before going to graduate school for Theatre Management. After I graduate from grad school I want to open my own theatre and run it as artistic director.
What has been your favorite acting role?
Last year I was in "Machinal" and that was probably both my favorite and my most challenging role thus far. It was a new experience for me, because it was a totally different style of acting than anything I had previously encountered, and it was a very heavy subject matter. But, it was also incredibly rewarding and a phenomenal learning experience. In April, I will be playing the Fool in "King Lear," and I am super excited about that upcoming experience as well. I have never done Shakespeare before, so I am sure that it is going to be a big challenge and hopefully fun as well.
Members of the Anthony Aston Players decide which plays they will perform, right?
Yes. A number of plays are submitted by students and we vote on which plays we are most interested in performing. After plays are selected, members interested in directing fill out an application outlining their vision for the show and why they would be the best one to direct it. The members then choose the director.
What have you done to prepare for the upcoming play?
I have done a lot of research and analysis and really delved into the play and the circumstances surrounding it. It has been an intense process, and I have grown as a person as a result of my work. As the director, I have to be in tune with each of the characters and, in many ways, it is almost like I am playing all of the roles. Sometimes I find myself getting bogged down by the emotions of all of the characters, and I have to take a step back and remind myself who and where I am.
How do you juggle rehearsals and academics?
It is all about time management. I make a list of everything I need to get done and systematically check things off once they're accomplished. It isn't easy, and I get stressed out just like everyone else. But theatre is something I love and am passionate about, so I make it a priority in my life. I have been working on this show since early November. I cast it in December, and we have been rehearsing since early January.
Why do you think it's important that "Death and the Maiden" be performed?
It's a story that needs to be heard. The play sheds light on human rights violations and the after-effects of torture. It asks: Is murder ever justifiable? What makes someone evil? Where is the balance between keeping the past alive and yet not allowing it to control you? Is it possible to distinguish truth when you are surrounded by lies? And, most importantly I think, what is justice? Can justice truly ever exist?
When audience members leave the play, they may be asking themselves whether or not, in the end, Paulina does kill Roberto in retribution for his violations, but the most important, though incredibly heart-wrenching question, in my opinion, is whether or not she would be justified in doing so.
Brittni Shambaugh is a recipient of the Presidential Scholarships for Distinguished Achievement.
Categories: Arts & Culture, Engaging in the Arts, Student, Wake Forest College
Subscribe
Sign up for weekly news highlights.
Subscribe