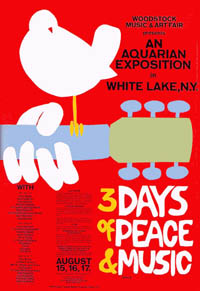 On Aug. 15-18, 1969, in a hay field in Bethel, New York, more than 400,000 people came together for "three days of peace and music" at the Woodstock Music and Art Fair. Forty years later, Woodstock is still a powerful cultural and social milestone. Professor of Music Susan Borwick talks about what young people found at Woodstock and how it influenced today's music.
Why does Woodstock still fascinate us?
David Crosby of Crosby, Stills, Nash, and Young said it well, from the perspective of participants and attendees: "We thought we were all individual, scattered hippies. When we got there, we said, 'Wait a minute, this is a lot bigger than we thought.' You couldn't really wrap your mind around how many people were there."
As a graduate student at the time, my own psyche was bent as well. I arrived back from my first European trip, steeped in opera performances and high culture, as a proud American in Europe during the first moon landing, to learn of a huge, grungy, rockin', peace-lovin', muddy and crazy event in upstate New York.
Parents, cultural and governmental leaders, and law officials were shocked by Woodstock. Countless members of the youth and college culture were united around it — for it was positive compared to their experiences as frontline fighters in Vietnam or protesters at the '68 Chicago Democratic Convention. Boomers "gave peace a chance" at Woodstock. Not a bad idea, really. At that moment, the national psyche shifted just a bit.
How did the music of Woodstock influence music to come?
The first day, the crowd heard Richie Havens, Sweetwater, The Incredible String Band, Ravi Shankar, Melanie, Arlo Guthrie and Joan Baez. On Saturday, it was Country Joe McDonald, John Sebastian, Santana, Canned Heat, The Grateful Dead, Creedence Clearwater Revival, Janis Joplin, Sly & the Family Stone, The Who, and Jefferson Airplane. Sunday and early Monday, the crowd heard Joe Cocker, The Band, Blood Sweat & Tears, Johnny Winter, Crosby, Stills, Nash & Young (at 3 a.m.), Sha-Na-Na, and Jimi Hendrix.
The sheer talent onstage set this event apart from other music festivals. The influence of Woodstock's music on all the music that followed is immeasurable. The sum of the power and beauty and allure of all this music, packed into a single weekend, was greater than the quality of the individual acts.
Is American music today as important culturally as it was in the 1960s?
The key word is "American." As with culture in general, music is now globalized, to such an extent that even defining "American" rock today is difficult. American listeners are like others around the world in identifying less with musical genre or category and more with performer.
"Rock" may not be as unifying nowadays, but music "of the people," that is, popular music, certainly is. An example is Rihanna, who has dabbled in pop, R&B, reggae, dance-pop, electronica, electropop, dancehall genres, all since 2005 when she released her first album. Each of these genres has a specific definition; however, what is important in today's culture is Rihanna, not genres.
Is there deep meaning in Rihanna's music that later generations will embrace? No one knows. I can't see it. On the other hand, I couldn't see the full meaning of Woodstock in 1969, either, as clearly as I do 40 years later.
Related Links
» Music Department
» Protest songs still air societies concerns