Main Content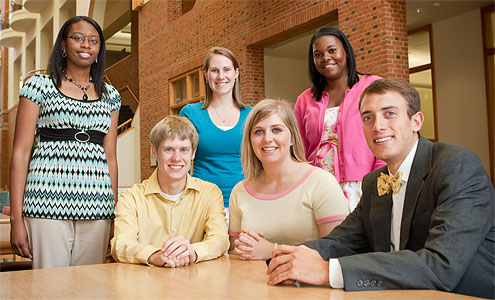 As a student, Darcy Delph ('09) manned the Information System's service desk, cleaning coffee spills off keyboards, replacing dead batteries, and handing out Kleenex to fellow students who lost projects when their computers crashed. This year she has brought her insider perspective to I.S. as one of six recent graduates who are Wake Forest Fellows in various University departments.
Delph is working to make computers and technology service more student-friendly. "If I can accomplish one thing this year, it's for students to be excited about their technology, confident that they can get help when they need it and knowledgeable about how to use campus resources to improve their learning experience," she says.
The Wake Forest Fellows program was initiated by President Nathan O. Hatch last year to provide recent Wake Forest graduates an opportunity to work in higher education for one year.
"The Fellows program is symbiotic," Delph says. "Fellows want to learn more about higher education, and the University wants to learn more about student needs. It's a win-win program. The overarching goal for my position is to infuse the student perspective into I.S."
Delph has already surveyed students on how technology offerings and services can be improved. A new e-mail address, ideas4IS@nullwfu.edu, has been set up for faculty, staff and students to submit comments and suggestions on an ongoing basis. She is also working on the transition of student e-mail accounts to Gmail, scheduled to take place January 4.
"When Darcy came to interview for the position, she brought along a list," says Rick Matthews, associate provost for information systems and professor of physics. "I recall her saying 'I would love to be the Information Systems fellow, but whether or not you hire me, here are some things that need improvement.' I immediately knew that she was perfect for the position."
During New Student Orientation in August, Delph talked to parents while students picked up their computers in the IS Building. "One of the best parts of this job was being able to talk to so many parents and families. As a recent graduate, I was able to offer advice and expertise on a variety of topics, not just technology. It was exciting to watch a new class of students begin their four-year adventure at Wake Forest."
Related Links
» Follow Darcy's blog — learn more about her work in I.S.
» Wake Forest Fellows
» Educating the whole person: the Wake Forest Fellows program
» Information Systems
Subscribe
Sign up for weekly news highlights.
Subscribe