Main Content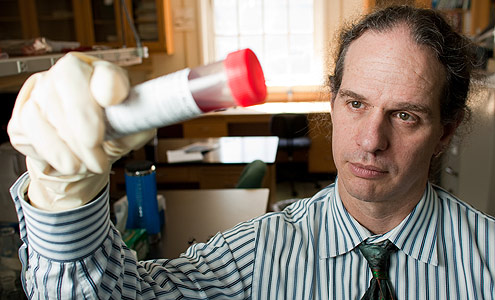 Professor of Physics Daniel Kim-Shapiro and a collaborator at the University of Pittsburgh have been awarded a $2.8 million, four-year federal grant to study why the quality of stored blood degrades over time and to investigate ways to make transfusions using older blood safer.
Recent clinical studies have raised concerns that transfusions using blood stored longer than 14 days may increase the risk for cardiovascular events and organ failure, particularly in certain patients who receive multiple units of aged blood, such as those who have had coronary artery bypass or heart-valve surgery. Scientists call the blood-degradation problem "storage lesion." Blood is typically banked for up to 42 days.
Kim-Shapiro, who is the Harbert Family Distinguished Chair and director of Wake Forest's Translational Science Center, received the grant with Dr. Mark Gladwin at the University of Pittsburgh. They have worked together for the last 10 years to evaluate how nitric oxide — a molecule that, among other important biological function, causes blood vessels to dilate — interacts with hemoglobin in red blood cells. Gladwin is director of the Vascular Medicine Institute at the University of Pittsburgh and chief of the division of pulmonary, allergy and critical care medicine at its School of Medicine.
"When the red cells hemolyze, or break apart, during storage, they leave behind micro-particle remains and the hemoglobin they contained," Gladwin explains. "We suspect that after transfusion those remains lead to destruction of nitric oxide, which in turn can cause blood vessel inflammation and narrowing, as well as blood clots."
In a paper published in Current Opinion in Hematology, Kim-Shapiro and Gladwin describe experiments that show how even low levels of micro-particles and hemoglobin released when the red cells break apart act to decrease nitric oxide.
"It's possible that an agent that increases nitric oxide levels, such as sodium nitrite, could be added to banked blood or given directly to transfusion patients to compensate for the potential complications of a storage lesion," says Kim-Shapiro, who has previously worked with Gladwin and Professor of Chemistry Bruce King to investigate the effects of nitric oxide on sickle-cell anemia.
Kim-Shapiro's and Gladwin's most recent grant is from the National Heart, Lung and Blood Institute of the National Institutes of Health. They will use laboratory, animal and human experiments to quantify the effects of storage lesion and investigate the feasibility of additives that could be used to restore nitric oxide function to stored red blood cells. The study will be conducted at Wake Forest and at the University of Pittsburgh.
Categories: Research
Wake Forest in the News
Wake Forest regularly appears in media outlets around the world.