Main Content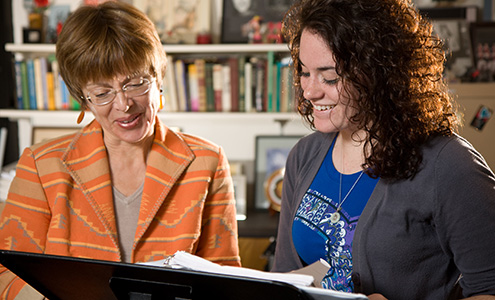 In library archives in London and New York, junior Katherine Morgan spent her summer uncovering original editions, some never before published, of Arthur Sullivan's lesser known compositions.
Though Sir Arthur Percy Sullivan (1842-1900) is a household name when paired with W.S. Gilbert and "The Pirates of Penzance," few know that Sullivan composed over 100 art songs (also called parlor music), originally written to be performed in the sitting rooms of middle-class homes by amateur singers and pianists.
Professor of Music Stewart Carter encouraged Morgan, an English and music double major, to focus her Richter-scholarship funded study abroad on Sullivan's works.
"The University gave me an opportunity to become a scholar and world traveler, and I came back a totally different person," says Morgan, who is from Flowery Branch, Ga. "Not only did I come back with extensive knowledge on my research topic, I also came back knowing more about my self and my ability to be self-reliant. It was empowering."
Carter helped Morgan gain access to libraries normally reserved for experienced professionals. Both the Pierpont Morgan library and the British library require permission to use their resources.
"As an undergraduate having just completed her sophomore year, Katherine negotiated these libraries by herself in the face of skepticism about the seriousness of her scholarship," says Carter. "That says a lot about her commitment to the research."
"At the British library, I saw the original sheet music for many of Sullivan's art song compositions. At the Pierpont Morgan library in New York, I read Sullivan's personal letters and diaries. Through this experience, history came to life," says Morgan, a Presidential Scholar. "When we read a biography of a composer, it's someone else's understanding of information. But I was able to explore connections between his private life and his music using my own impressions of primary sources."
Categories: Research
Subscribe
Sign up for weekly news highlights.
Subscribe