Main Content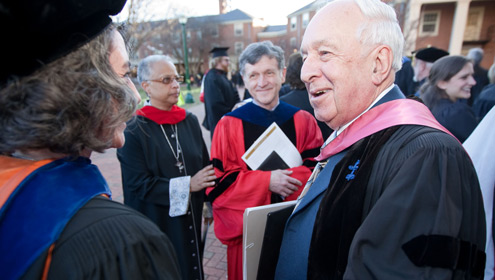 Choosing to attend Wake Forest wasn't taking the easy road in life, senior Kate Miners said in her senior oration at Founders' Day Convocation on Feb. 18.
"Wake Forest has confirmed a life belief of mine. The easy road may be as its name suggests, but there are many things it is not. It's not challenging or interesting or engaging or exciting," said Miners, a theatre major originally from England, in her oration, "The Road Less Traveled." "So when you are faced with a choice, choose the challenge, choose the mountain, and you will never go back."
Miners, Zahir Rahman and Monica Giannone were chosen from among the ten finalists in this year's Senior Colloquium to deliver their remarks at Convocation. It was the first time that senior orations have been presented at Convocation.
In their Senior Orations, Miners, Rahman and Giannone explained how they had changed the last four years and what Wake Forest means to them as they prepare to graduate in May. "Words are the center of our collegiate lives together," said Provost Emeritus Edwin G. Wilson ('43), who introduced the students to the large crowd in Wait Chapel.
"Our Wake Forest community is strengthened by our differences, but its foundation is built on our shared commonalties," said Rahman, a political science major and religion minor from Baltimore, Md., in his oration, "We are Wake Forest." "Our passion for higher education. Our belief in Pro Humanitate. Our allegiance to the Old Gold and Black."
Coming to Wake Forest was the scariest experience of her life, said Giannone, a political science and religion double major from Madison, N.J., in her oration, "The Fear We Do Not Understand." "Now, four years later, I have realized that overcoming this 'fear of the unknown' has come to shape my academic and scholarly pursuits. My professors, colleagues and friends have challenged me not to fear that which we do not understand, but instead to strive toward discovering the truth behind the foreign."
Also during Convocation, the University's highest honor, the Medallion of Merit, was presented to Barbara Babcock Millhouse (LHD '88), founding president of Reynolda House Museum of American Art and a past Wake Forest trustee. "She has been the driving force behind Reynolda House since the museum's creation," said Wake Forest President Nathan O. Hatch.
Faculty awards for teaching, research and service also were presented.
The Reid-Doyle Prize for Excellence in Teaching Award was presented to Erik Johnson, an assistant professor of biology, who joined the faculty in 2005. Students praised Johnson for making difficult material easy to understand. "He is very accessible outside the classroom and always patient in explaining concepts without the slightest contempt for the simplicity of the questions," said Glenn Zhao ('09).
The Award for Excellence in Research was given to Akbar Salam, associate professor of chemistry. Salam received his PhD from University College, London, and joined the Wake Forest faculty in 2003. He was recognized for a distinguished record of scholarship, including 44 peer-reviewed publications in some of the best journals in the field of chemistry and his new book, "Molecular Quantum Electrodynamics: Long-Range Intermolecular Interactions" (John Wiley & Sons, Inc., NJ, 2010).
The Kulynych Family Omicron Delta Kappa Award for Contribution to Student Life was presented to Jennifer Gentry ('97), a lecturer in art and an entrepreneurial medical illustrator. She was recognized for engaging students outside the classroom through such initiatives as the START Gallery in Reynolda Village. She received an MA in medical illustration from Johns Hopkins University School of Medicine.
The Joseph Branch Excellence in Teaching Award was presented to Professor of Law Jennifer Collins, who specializes in family law and the criminal justice system. "Law students learn best when they're engaged," said Ron Wright, executive associate dean for academic affairs and professor of law. "She knows how to involve people in their own education, and students sense Jennifer's urgency to help improve the lives of children." Collins received her law degree from Harvard Law School and joined the Wake Forest faculty in 2003 after serving as an assistant U.S. Attorney in Washington, D.C.
Categories: Community, Student, Wake Forest College
Subscribe
Sign up for weekly news highlights.
Subscribe