Main Content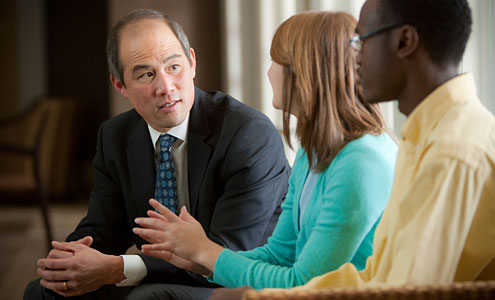 Because companies and organizations are making more "just-in-time" hiring decisions, the summer looks brighter for new college graduates who are still looking for a job.
Instead of hiring for what they think they will need in the future, employers are hiring more for what they need right now, said Director of Career Services Ladd Flock. That means two things for job-seekers: they need to keep in close touch with their college career centers this summer to be aware of new openings and they need to respond immediately when a job is posted.
More hiring is likely to take place outside the traditional fall and spring recruiting cycles, he said. And, new college graduates need to be ready for opportunities that will come up in the summer months. Some employers, who made a few hires earlier in the year are coming back to campuses looking for additional job candidates as they get funding for additional positions.
Hiring is up 5.3 percent nationally for the Class of 2010, according to the National Association of Colleges and Employers, and hiring is not over for the year. A steady flow of job listings keeps coming into Wake Forest's Office of Career Services. "We're still getting phone calls and e-mails from companies that have job postings right now," Flock said.
Flock provided five tips for new college graduates job-hunting in the summer months:
1. Apply quickly. If your university provides an online service with updated job postings, check them every day. Many employers are giving job candidates only a few days to submit an application.
2. Update contact information with your University's career services office. Make sure the career services staff can reach you with a job lead that matches up with your skills and interests.
3. Polish your resume and update details that may have changed since graduation.
4. Find out what services your university's career office offers to graduates. Just because you have graduated does not mean they cannot help you.
5. Connect immediately with your university's alumni clubs in the cities where you might like to work. Alumni are a wonderful resource for new graduates and often open doors to help a new graduate get an interview or a job.
Categories: Personal and Career Development, Student
Subscribe
Sign up for weekly news highlights.
Subscribe