Main Content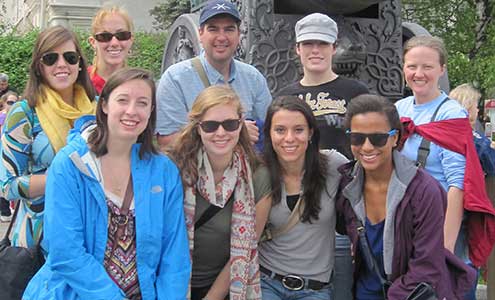 In Moscow's Orphanage 105, kids love to play tic-tac-toe just as they do in America. For the Wake Forest students who volunteered there for two weeks in May, the Xs, Os and "oh, no's" that accompany the game were one way to overcome the language barrier since none of the participants spoke Russian.
"We didn't need to speak each other's language," said Melanie Firestone, this year's student leader for the "Helping Hands" service trip, one of several annual service trips sponsored by the Volunteer Service Corps. "The children just want to hold hands and get some one-on-one time."
For Firestone, a junior health and exercise science major from Charlotte, N.C., this spring's service trip was her second to the orphanage. Many of the children remembered her from last year — making circular motions with their fingers around their faces to show they recognized her.
"They are so excited to see us," Firestone said. "It's funny to think there are so many people in Moscow who know and love Wake Forest University."
Orphanage 105 is home for children between the ages of six and 18 whose guardians are unable to care for them full time. They stay at the orphanage during the week — often traveling alone many hours by train to get there — to be fed, cared for and taught a trade, such as metal work, wood work or sewing, before returning home on the weekends. Many have special needs.
The Wake Forest students lived in the orphanage and spent their days painting classrooms and playing with the children. Firestone has seen first-hand how time and money can make a difference in the children's quality of life.
"When we write a check for a good cause we rarely get to see how much difference that gift makes. During our volunteer trips, we've taken financial donations with us from church groups in the U.S., and we have seen how this money was used for beds for the children or to buy a refrigerator for a graduate of the orphanage who needs help getting started on her own. Without these funds, the young people wouldn't have a way to get what they need. The orphanage can't afford to provide this kind of aid."
Categories: International, Student
Subscribe
Sign up for weekly news highlights.
Subscribe