Main Content
Students during exam week drink coffee — a lot of coffee. About 2,000 cups have been ordered to sustain students through finals week as part of Wake the Library.
This year, the library is asking students to bring their own reusable mug to support the university's sustainability initiatives. Cups, for those who forgot to bring one, will be available upon request at the Circulation desk.There is no limit to refills.
In addition to the free coffee, the library provides food each night at midnight. "For the first Wake the Library event in spring of 2006, food was an afterthought managed by staff members, but since then, food has become an essential component of the week-long activities," says Wanda Brown, associate dean of the library. "The students are very appreciative."
Water and fruit, which are available every night of finals week, are coupled with selections of pizza, subs, chicken sandwiches and burritos. Midnight snack menus will be posted on the Z. Smith Reynolds Library Facebook page each day.
At 11:45 p.m., the queue begins forming for evening snacks. This year, students can win one of five "Golden Tickets" using Gowalla — a location-based social networking application compatible with most Smartphones and the iPad — to earn the right to skip to the head of the snack line.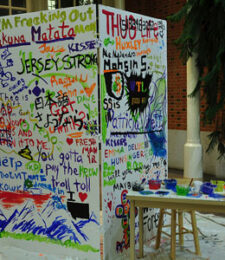 On a graffiti wall in the library atrium, students can use paint and brushes to draw pictures or write messages on a display board. Monday through Friday, a graffiti video station will be open for students to share their thoughts and send video messages to friends and family. "Much like the existing graffiti board, the video station aims to provide a constructive and fun outlet for students to express themselves during exam week," says Wake Forest Fellow Gretchen Edwards.
The library is also accepting non-expired, unopened canned goods as payment for overdue book fines. Food will be donated to Campus Kitchen to provide groceries for those in need during the holiday season.
The Z. Smith Reynolds library will remain open 24 hours from Friday, Dec. 3 through Saturday, Dec. 11 — closing at 5 p.m. when the last exam is taken and winter break officially begins. The serving of food at midnight begins on Sunday, Dec. 5.
Categories: Audiences, For Parents, Life on Campus, Student, Top Stories
Subscribe
Sign up for weekly news highlights.
Subscribe