Main Content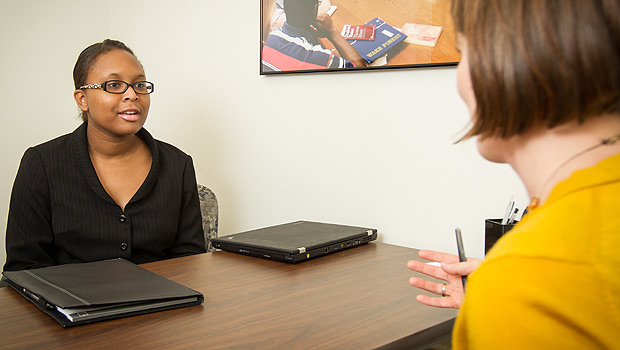 For most students, evenings in December mean studying for the next week's exams and looking forward to a holiday break.
But Marika Dillard ('13) and 15 other juniors and seniors are also thinking further ahead to their plans after graduation.  They are enrolled in CNS 320: Strategic Job Search Processes and spent a recent Friday night preparing themselves for life after college with mock interviews for graduate school programs or job opportunities.
Dillard, a philosophy major, plans to pursue a Master's Degree in Social Work, so she welcomed the structured practice for upcoming admissions interviews.
"My mentor encouraged me to see interviewing as a conversation between you and the interviewer. This tip really helped me because it made the interview less of a threat and more about a mutual relationship," said Dillard. "While in the interview, time goes by really fast, making it easy to get caught up in the moment. An instruction as simple as 'breathe and talk slowly' means so much when you are in the actual process."
CNS 320: Strategic Job Search Processes is the third in a popular series of four "College to Career" elective courses offered by the Department of Counseling.
In addition to interviewing skills, Instructor Heidi Robinson taught students how to develop their 30-second pitch, target résumés and cover letters for specific opportunities, build connections through networking, and manage their digital personae.
"The liberal arts curriculum at Wake Forest provides a strong foundation for whatever path students choose in the future," said Robinson. "Empowering them to market a combination of their skills, values and interests help them find a fulfilling life in the future."
Given that 92 percent of the class of 2011 were either employed or in a graduate or professional school within six months after graduation, Wake Forest students are well positioned for success.
But for history major Jung Ho Kim ('13) and his classmates, the experience means so much more than just finding a job.
"I gained the abilities to be confident, poised, collected, and knowledgeable in tackling all of my future personal and professional goals and endeavors," said Kim. "These abilities I've gained will provide me with the necessary framework for approaching the job market effectively and efficiently by tailoring my strengths, values, attributes, and interests in the actual job search."
"College to Career" course offerings are expected to expand over the next few semesters, and resources offered through the Office of Personal and Career Development (OPCD) can also help students feel prepared for today's changing job market.
Regardless of how students go about preparing themselves for life and work after college, Dillard, who also serves on the OPCD Advisory Council, shared her greatest lesson learned.
"The most important things to remember are follow your passion and find a career that 'fits' you and your values."
Categories: For Alumni, For Parents, Mentoring, Personal and Career Development, Student, Top Stories, Wake Forest College
Subscribe
Sign up for weekly news highlights.
Subscribe