Main Content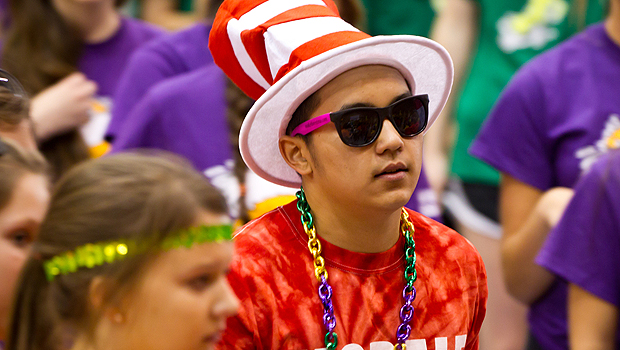 More than 1,000 students danced in Reynolds Gym on Saturday, March 24, as part of the seventh annual Wake 'n Shake Dance Marathon. The event raises money for the Brian Piccolo Cancer Research Fund and the Cancer Center at Wake Forest Baptist Medical Center.
As of March 27, this year's efforts have raised $105,000, more than double last year's total and the most money ever raised by a single philanthropy event for the Piccolo Fund.
Participants were on their feet for 12 hours (noon to midnight), and joined in a variety of activities, including crazy games, competitions and a group line dance.
Musicians, dance groups, and student and community organizations provided entertainment during the marathon. Throughout the event, cancer survivors, and families and friends of cancer victims inspired dancers by sharing their testimonials. Dancers were faced with both mental and physical challenges in an effort to symbolize the obstacles faced by those diagnosed with cancer.
Categories: 2012 Highlights: Life on Campus, For Alumni, For Parents, Pro Humanitate, Student, Top Stories
Subscribe
Sign up for weekly news highlights.
Subscribe