Main Content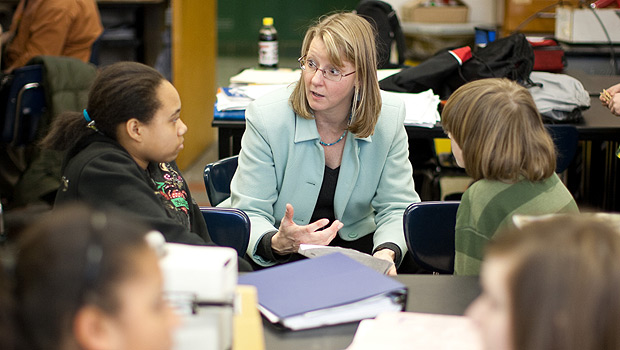 Wake Forest will host a community forum to explain the benefits of the International Baccalaureate (IB) Program to local students and their parents on Dec. 15. The forum will be held in Brendle Recital Hall in the Scales Fine Arts Center beginning at 7 p.m.
Wake Forest has a close partnership with local IB schools and provides resources and opportunities for students in the IB program. The IB curriculum is taught at Parkland IB Magnet High School, Paisley IB Magnet School and Ashley IB Elementary School.
The forum is for middle school and older students and their parents. During the forum, admissions directors from Wake Forest, Duke University and Davidson College will speak on the program's value in helping students prepare for college.
At least 63 first-year students at Wake Forest this year graduated from IB schools, said Martha B. Allman ('82, MBA '92), Wake Forest Director of Admissions. "Accomplished IB students are well prepared for the rigors of the most selective colleges and universities around the country and the world," she said.
Also during the forum, students and their parents from the three local IB schools will talk about their experiences. Wake Forest students who completed the IB program and then enrolled at the University will also share their experiences.
Wake Forest supports the IB program in numerous ways. University faculty provide guest lectures and carry out special projects in the local IB schools. IB students also come to Wake Forest for lectures and presentations and attend University cultural events.
Stephen Robinson, professor and chair of mathematics, chairs a committee of Wake Forest professors, local teachers, and administrators that develops programs for the IB schools and encourages IB student participation in programs and activities on the WFU campus. He also organizes the IB/WFU Math Teachers' Circle, where faculty from Paisley, Parkland and Wake Forest meet once per month to discuss interesting mathematical topics and pedagogy.
In the fall, 22 Wake Forest undergraduates, four biology faculty and staff members, and three graduate students taught plant biology and plant genetics to 200 7th grade students and 50 9th grade students, and 30 high school students at Paisley and Parkland. This project focused on the diversity of heirloom tomatoes was supported by a grant to faculty and researchers in biology and education including Gloria Muday, Carole Browne, Hanya Chrispheels and Michelle Klosterman from the American Society of Plant Biologists Education Foundation.
The IB program is open to any highly motivated student who wants to participate. The program offers a rigorous comprehensive curriculum requiring students to demonstrate knowledge and skills in six academic areas: English, foreign language, math and computer science, individuals and societies, the arts, and experimental sciences. The program places an emphasis on global awareness and community service.
Categories: Admissions, Community, Faculty, For Alumni, For Parents, International, Top Stories, Wake Forest College
Subscribe
Sign up for weekly news highlights.
Subscribe