Main Content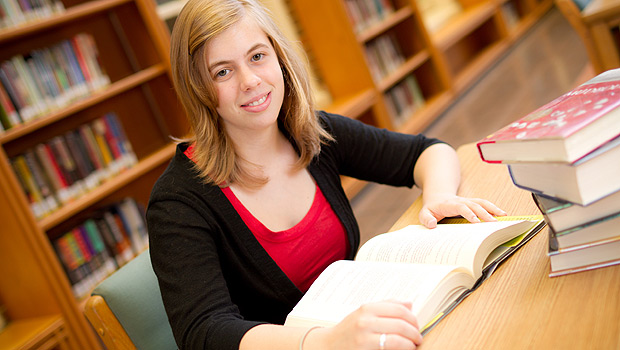 Erin Pope, a first-year student from Kenly, N.C., looks back on her first semester and what she learned over the past four months. She is considering majoring in English with a minor in medieval studies.
What surprised you most this semester?
I expected the teachers to be very busy and not have a lot of extra time to talk with students, but I found this to be entirely untrue. All of my professors were willing to help me and discuss things outside of class. They really took the time to help my understanding of the subject, and they were interested in what I had to say.
What was your hardest class?
My hardest class was an art class called 'The Gothic Cathedral.' With no background at all in architecture, it took me awhile to get in the swing of things. I really enjoyed the class, though, and am glad that I decided to take it.

What class did you enjoy the most?
I enjoyed my first-year seminar on Germanic myths and monsters the most. We read several epics in the class, and the discussions were always interesting. The class helped me to think and write more critically by using entertaining subjects, especially in regards to the monster component of the class.
Where was your favorite place to study?
Generally, my room, but on beautiful days, I liked to go to the swings outside of Scales to study.

And your favorite study snack?
Sweet Tarts

Did you join any organizations?
I became involved with the Wake Forest Handbell Choir early in the semester, and I am the Freshman Council Representative for the Baptist Student Union (BSU). I love being a member of the Handbell Choir, and I always enjoy seeing the people in BSU at our Tuesday night Horizons and at other activities.

What unexpected things have you learned about yourself?
I initiated friendships more than I normally did before coming to Wake Forest. As a result, I've met several people who have become some of the best friends I have ever had. I learned that I am not nearly as shy as I tell people I am.

What will you do differently next semester?
I think next semester I'll do more campus-oriented things. I want to participate in more of the BSU activities and go to more events.
Categories: For Parents, Student, Top Stories, Wake Forest College
Subscribe
Sign up for weekly news highlights.
Subscribe