Main Content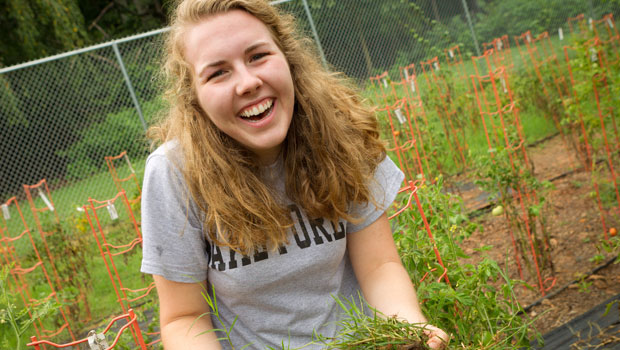 Celia Quillian, a first-year student from Atlanta, Ga., is a Presidential Scholar in theatre. She is planning to major in theatre and "another yet to be determined field," she says.
Were you able to get involved with the theatre department this semester?
Soon after coming to Wake Forest, I became involved with the Anthony Ashton Players (AAP), a student organization dedicated to the promotion of theatre arts at Wake Forest. I'm on the events committee and the play reading committee for the AAP, and I've just been cast in my third show. I practically live in Scales Fine Arts Center, but I wouldn't have it any other way.
What most surprised you this semester?
I was most surprised by how quickly you meet and bond with people here. I feel like I've known all my new friends for years, not just five months.
What was the class you enjoyed the most?
I adored "Introduction to Theater" with professor Brook Davis. We read ten excellent plays, and the class was really exciting and engaging. My favorite project was when groups in class had to choose a short excerpt from the play "Everyman" and work together to make a full fledged, self-interpreted "production" of the scene.
What was your hardest class this semester?
My hardest class this semester was probably "Biology 113: Evolutionary and Ecological Biology." Covering the history of the evolutionary world and a complete overview of ecological processes is a lot in one semester. I really enjoyed the class, though.
Where is your favorite place to study on campus?

I like variety. I've studied in my dorm lounge with friends, at my desk in my room, in the colorful Scale's lobby, on the second floor of Starbucks, and when I need absolute silence and concentration, in the sixth floor cubicles of the library, near the Spanish books. They all have their perks.
What is your favorite study snack?
Gummy bears. I reward myself with them. They're like my version of Scooby Snacks.
Did you join any athletic clubs?
I joined the Girl's Ultimate Frisbee club at the beginning of the semester, which surprised me because I haven't been a part of a sport's team since seventh grade. Unfortunately, I had to quit the team when my rehearsal schedules started to conflict, but not without learning how to throw a pretty decent flick!
What unexpected have you learned about yourself this semester?
I've learned I'm much more independent than I thought I was.
What will you do differently next semester?
I will get a smaller meal plan and a day planner.
Categories: Admissions, Arts & Culture, Student, Top Stories
Subscribe
Sign up for weekly news highlights.
Subscribe