At Wake Forest, one day to celebrate the Earth is not enough. From April 14-26, 13 Days of Celebrating the Earth will offer nearly two weeks of activities, and informational and motivational events around Earth Day.
The celebration begins with "Green, It's Not Only a Color, It's a Movement," — an art exhibition opening at the StArt Gallery in Reynolda Village and running through May 16. The exhibition was the brainchild of sophomore De'Noia Woods. It features student artwork created using reclaimed materials, such as broken bricks, glass bottles, mesh and lumber. The pieces focus on sustainability and environmental consciousness. View examples of the work at the bottom of this article.
For Woods, the exhibition combines her passion for art with her interest in sustainability — developing the idea with sustainability director Dedee DeLongpré Johnston. Thirty-two works were submitted for consideration of which 21 pieces were chosen for display. "The idea behind the art exhibition is to show the many different and personal ways we can express environmental consciousness in our lives," says Woods.
"Our goal in is to help people connect their personal passions with sustainability," says DeLongpré Johnston. "We want to empower members of the community to consider adopting ways to plug into sustainability that fit into their daily lives. For example, try timing a 5-minute shower and turning off the water while you brush your teeth or shave, or try using a carbon footprint calculator to learn more about how much energy you use and eliminate one wasteful habit. The idea is to encourage success."
Highlights of the celebration include: events that focus on local food and food justice, an arbor day celebration that includes planting new trees on campus, the Earth Day Fair at the Dixie Classic Fairgrounds in Winston-Salem, and a "take time out" day to relax and reflect.
A keynote address by renowned activist and writer Bill McKibben on April 26 in Wait Chapel will close the celebration with a call to action.
Samples from the student art exhibition: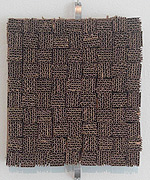 Title: The Waiting Game
Artist: Sophomore Katie Wolf
Materials: Cardboard found in dumpster behind ZSR Library
Sustainability focus: Cardboard is decomposable
---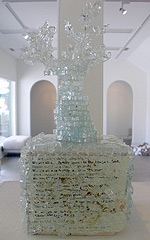 Title:
Tree of Life
Artist: Third-year divinity school student Shannon Axtell
Materials: Glass and cinder block from campus facilities waste site and church service programs
Sustainability focus: The piece exhibits two aspects of sustainability – rootedness in faith and community, and the hope that new creation can come from brokenness.
---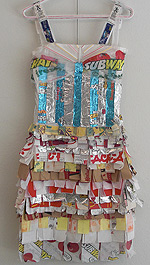 Title:
For Here or To Go?
Artist: First-year student Kelsey Zalimeni
Materials: Hand-stitched Muslin slip, wrappers and containers from Subway, McDonalds, KFC, Taco Bell, Chick-Fil-A, Heinz Ketchup, French's Mustard and Texas Pete Hot Sauce
Sustainability focus: The piece tells viewers to reuse and recycle anything and everything. All pieces of "garbage" can be used and turned into something beautiful; there are no limits.
---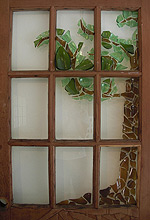 Title:
Closer
Artist: Senior Joshua DeWitt
Materials: Glass from Shortys, cardboard from Fresh Food Company, and door from Habitat ReStore
Sustainability focus: Our relationship with nature is often overlooked. Humans are more intricately woven with nature than we understand.
---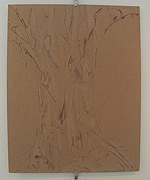 Title: Tree Bark
Artist: Sophomore Laura daRosa
Materials: Cardboard found in studio in SFAC, colored pencil
Sustainability focus: Cardboard is decomposable
---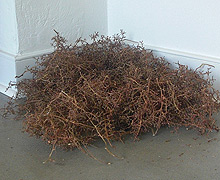 Title: Circuitry
Artist: Sophomore Jordan Van Horn
Materials: Dried grape stems from the Fresh Food Company
Sustainablity focus: Re-use of food waste that is normally discarded