Main Content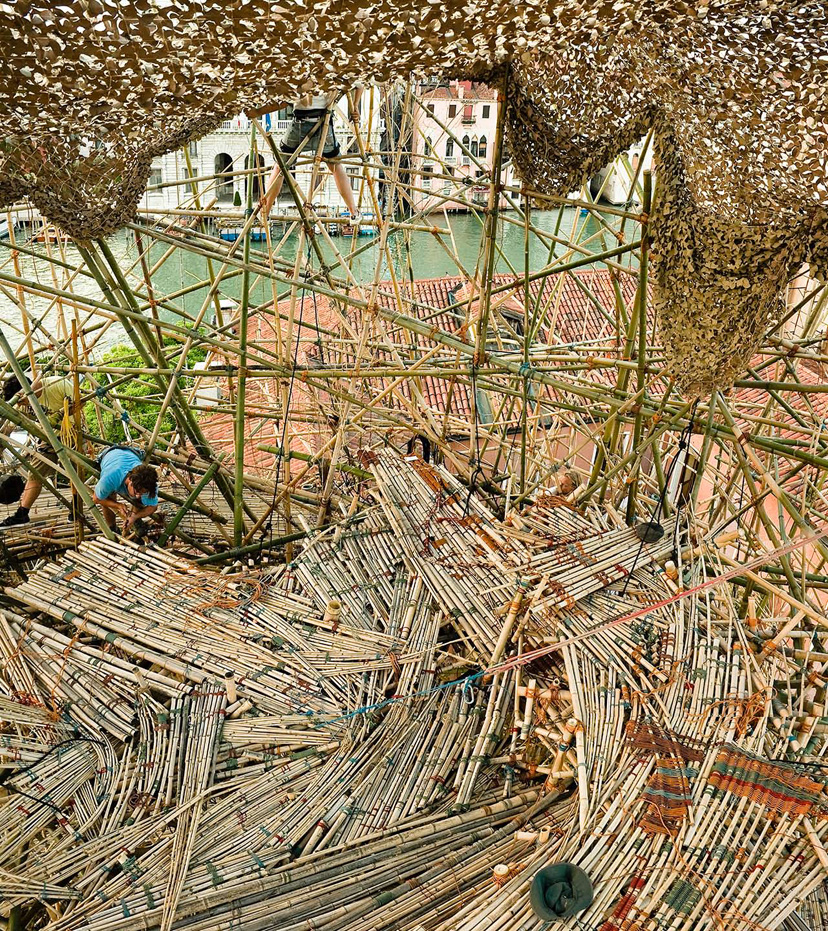 Internationally known artists Mike and Doug Starn are constructing a major art installation in the courtyard of Wake Forest's residential- study center on the Grand Canal in Venice, Casa Artom.
Big Bambú, a tower of more than 3,000 bamboo poles spiraling above Casa Artom, is part of the Venice Biennale, an international arts festival. Big Bambú was recently featured in The New York Times.
While working on the structure, the Starn brothers are staying at Casa Artom. The artists, who are twin brothers, expect the final structure to reach 75 feet.
Wake Forest undergraduates staying in the house this summer to study Italian have met the artists.
"To have an important work by major contemporary artists on Wake Forest's Venice campus is a rare opportunity," said Peter Kairoff, professor of music and director of the Venice program, who helped work out the details with the artists, the University and Venetian officials. "Students were invited to the opening night party in late May and have been able to get to know these artists in a casual way as they work on the project."
The first exhibition of the Starns' Big Bambú series was on the roof of the Metropolitan Museum of Art in New York last year. According to The New York Times, more than 600,000 visitors came to see the New York version.
The bamboo poles for the project were shipped by boat to Casa Artom's waterside doorstep. The artists have been working with a team of climbers to lash the poles together with climbing rope to build the structure.
Casa Artom, a former U.S. consulate, is next door to Palazzo Venier dei Leoni, which houses the Peggy Guggenheim art collection and was purchased by Wake Forest University in 1974.
Slideshow: Big Bambú, Casa Artom, Venice
Categories: International, Top Stories
Wake Forest in the News
Wake Forest regularly appears in media outlets around the world.