Main Content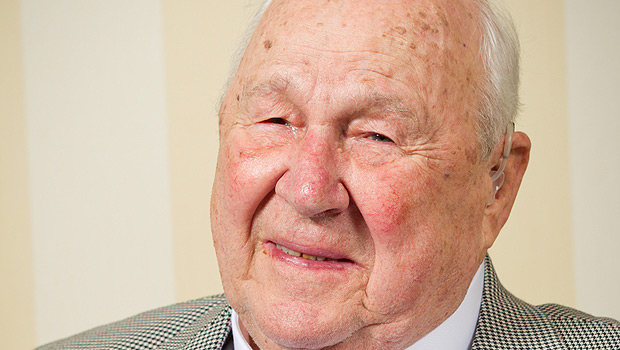 A loyal friend of Wake Forest and a 2011 recipient of the Distinguished Alumni Award, Porter B. Byrum, has given Park Road Shopping Center in Charlotte to Wake Forest University, Wingate University and Queens University of Charlotte.
"We are profoundly grateful for this gift from Mr. Byrum," said Nathan O. Hatch, President of Wake Forest University. "His contribution will have a deep impact for good at Wake Forest. Porter has lived a life marked by hard work, independence, deep commitment to values and ideals, and extraordinary generosity. He is a model to which we should all aspire."
Mr. Byrum launched a successful legal career after returning to North Carolina from World War II. His legal work introduced him to key members of the Charlotte business community, led to his involvement in real estate development and eventually his ownership of Park Road Shopping Center.
Park Road Shopping Center is located on the corner of Woodlawn and Park Roads in a residential area of Charlotte rich in history. The center was Charlotte's first open-air shopping center and the largest of any kind between Washington, DC and Atlanta when it opened in 1956. Mr. Byrum can often be found frequenting one of more than 60 stores and restaurants found in the shopping center. His long history of charitable giving includes the donation of land to the Union County School System to support the construction of new schools.
"Education gave me an opportunity in life," Mr. Byrum said. "It is my privilege to be able to give that same opportunity to others."
Mr. Byrum, and three of his brothers, all followed their father's path to Wake Forest University. As the sons of a Baptist minister, they attended tuition-free. "My daddy never would have been able to put four boys through college, so somebody ought to pay back that debt," Mr. Byrum said. "It makes me feel good to do that."
Wake Forest will receive the largest percentage of the three schools benefiting from the gift of the shopping center, with the rest divided equally between Wingate and Queens.
"Porter's act of benevolence is rare and historic," Hatch said. "The students at our three institutions will benefit from his generosity in perpetuity."
Categories: Alumni, For Alumni, For Parents, Top Stories, University Announcement
Subscribe
Sign up for weekly news highlights.
Subscribe