Main Content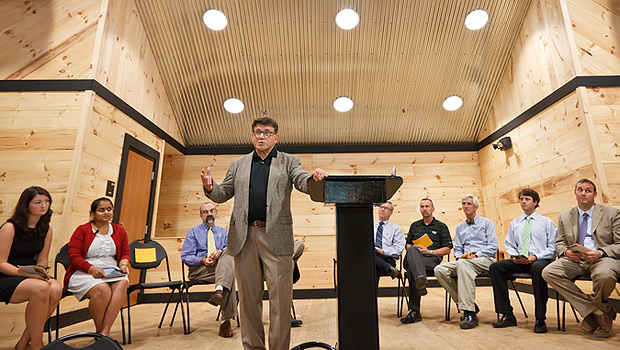 Wake Forest is committed to supporting a sense of excitement and liveliness on campus, while also encouraging a responsible social atmosphere for students. This commitment was on display the afternoon of Sept. 1, 2011, when students, faculty and staff gathered with the architects and builders of The Barn to dedicate the newest meeting and social space on the Reynolda Campus.
During his welcoming remarks, President Nathan O. Hatch said that The Barn is a symbol of our goal to animate and enliven student life on campus. Pleased with the way the project came together, Hatch said, "The execution exceeded our wildest dreams."
"The Barn is the realization of a long-awaited dream for many generations of Wake Forest student leaders," added Vice President of Student Life Kenneth A. Zick. "It took the leadership of President Hatch and Provost Tiefenthaler to make it happen."
Zick noted that the Barn is already booked throughout the entire semester, which is another indication that it meets a previously unfulfilled need.
During the academic year, the Barn will host a wide range of events, including guest speakers, concerts and comedy nights. Outside of the academic year, the Barn will hold events for faculty, staff and external groups.
Student Body President Nilam A. Patel said students are excited to have a space to meet for fun and fellowship. She stressed that students understand the responsibility that comes with this new venue, commenting on the need to take care of maintenance and upkeep, and ensuring appropriate use. "It is our goal to use The Barn for many years to come," she said.
Categories: Events, For Alumni, For Parents, Top Stories
Subscribe
Sign up for weekly news highlights.
Subscribe