Main Content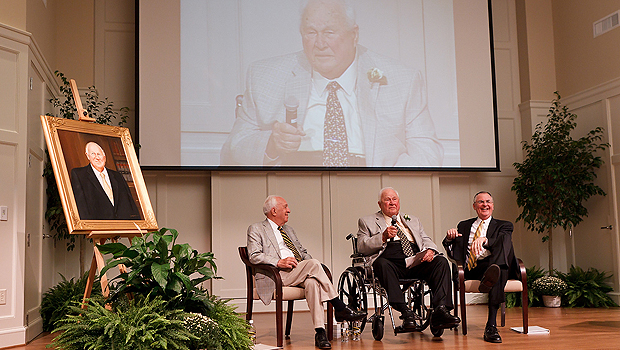 In recognition of Porter B. Byrum's lifetime of service to Wake Forest University, the new welcome and admissions center was officially dedicated as the "Porter B. Byrum Welcome Center" during a Sept. 10 ceremony.
This summer, Byrum, a 1942 graduate and recipient of the 2010 Distinguished Alumni Award, gave the University in excess of $40 million, the largest gift in the history of Wake Forest. Since 2001, 64 students have received more than $2 million in scholarships from Byrum.
During the ceremony at the welcome center, Wake Forest President Nathan Hatch unveiled a portrait of Byrum, which will adorn the building in perpetuity. Later in the afternoon, Byrum's service and generosity to the University were celebrated at the football team's home-opening game against N.C. State.
"I am extremely grateful for the friendship and generosity Mr. Byrum has shown to Wake Forest over the years," Hatch said. "Our students are the beneficiaries of both Mr. Byrum's successful career and his principle-driven life. His beliefs that perseverance can overcome seemingly insurmountable obstacles, that education equals opportunity, and that helping others is the key to a meaningful and well-lived life, should be a model for future generations."
Byrum and three of his brothers followed their father's path to Wake Forest University. As the sons of a Baptist minister, they attended tuition-free. "My daddy never would have been able to put four boys through college, so somebody ought to pay back that debt," Byrum said. "It makes me feel good to do that."
Byrum launched a successful legal career after returning to North Carolina from World War II. His legal work introduced him to key members of the Charlotte business community and led to his involvement in real estate development and ownership of the Park Road Shopping Center in Charlotte. In June 2011, Byrum donated the shopping center to Wake Forest, Wingate University and Queens University of Charlotte.
"Education gave me an opportunity in life," Byrum said. "It is my privilege to be able to give that same opportunity to others."
Ed Wilson ('43), Provost and Professor Emeritus, spoke at the dedication ceremony about Mr. Byrum's personal history and the character traits that made him a successful businessman. "With what must have been an insatiable curiosity, with a vision that enabled him to look around him and find promising opportunities, with a shrewd understanding of men and markets, with the manifold talents of what we might today call an entrepreneur… Porter achieved success," Wilson said. "Success in no way led to ostentation," added Wilson.
Wilson described the Porter B. Byrum Welcome Center as the "front porch of Wake Forest" and talked about the impact Byrum's generosity will have on future generations of students. He imagined a discussion between University staff and potential students concerned about affording a Wake Forest education. "Yes, we will make it possible for you to come," the staff will say. "Thanks to an alumnus named Porter Byrum, you will be a Wake Forest student."
"I can think of no better way to guarantee that the future of Wake Forest will be as noble as its past," Wilson said. "Thank you, Porter Byrum."
Categories: Admissions, For Alumni, For Parents, Top Stories, University Announcement
Subscribe
Sign up for weekly news highlights.
Subscribe