Main Content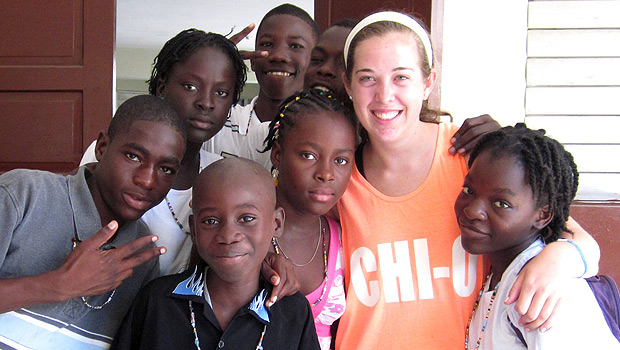 This summer, I had the opportunity to travel on a mission trip to Haiti with the Archdiocese of Baltimore. There, I helped run a summer camp for sixth and seventh grade students that promoted the importance of education and helped improve their English.
The "Pro Humanitate" experience proved to be everything I expected and so much more. The bonds I created there are truly unbreakable and the kids have been an inspiration to me. Though we just ran a summer camp, the Haitians taught me two valuable lessons in return: gratitude for my education and understanding that every person has a unique story.
Growing up in the Baltimore area, I often took for granted my unbelievable educational opportunities — Catholic elementary and middle schools that rooted my foundation and led me to Notre Dame Preparatory School. It was there, at my all girls high school, that my love for service began. In fact, a dedication to service is one of the things that attracted me to Wake Forest, and today my opportunities continue to grow. I feel compelled now more than ever to participate in outreach programs, whether it is helping kids at Project Pumpkin or building homes with Habitat for Humanity. The options are endless, the Haitians' love for their school and commitment to never take learning for granted caused me to come to this realization and truly understand its importance.
The Haitians also made me recognize that you not only learn from school but from one another. They not only so quickly formed bonds with our entire group, but also their friendships with each other were unbelievable and full of gratitude. Now back in America, I hope to realize just as the Haitians do that behind every face is a story. I learned so much from these amazing kids in just one week, it opened my eyes to the fact that I can learn even more back at Wake. The student body here is amazing. I plan this semester to branch out and hear the stories of those I have not met so I can continue to grow and learn through those around me, and hopefully inspire others to do the same.
The Haitian children's eagerness motivates me and their high hopes for the future cause me to never stop smiling. They understand, even at the young age of 12, that their education will lead to a brighter future. As I prepared to say "au revoir," I reminded myself to never forget the impact that these amazing kids have had on me and always realize the power of education.
Categories: For Alumni, For Parents, International, Pro Humanitate, Student, Top Stories, Wake Forest College
Subscribe
Sign up for weekly news highlights.
Subscribe