Main Content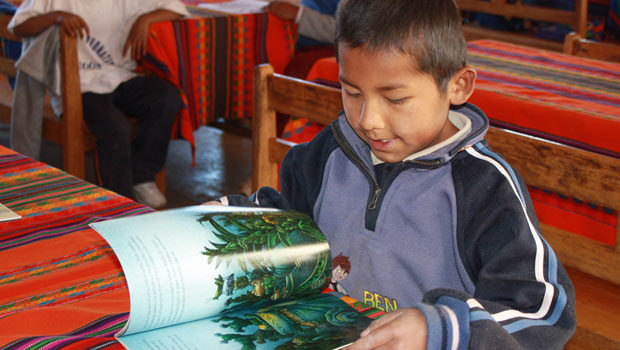 Seniors Ryan McCarthy and Sarah Wheeler used their stage talents this past summer to help improve reading comprehension for children at an orphanage in Peru.
With the help of grant money and assistance from the Wake Forest Summer Research Fellowship, computer science professor Paul Pauca and Pauca's father, Victor, the students had funds and accommodations for the trip. Theatre professor Brook Davis also provided planning and support before and during the project.
"Children in the orphanage read, but they don't have many books available, and when they read, they do not always understand what they're reading," says Wheeler, a theatre major and English minor from Lansing, N.C. "Our goal was to have the children read a story and then act out the roles as a way to improve understanding."
Wanting to be able to talk with the children in their own language, McCarthy and Wheeler took an intense Spanish class before traveling to Peru. They also visited a local elementary school and learned Spanish from kindergarteners.
Though their Spanish did not help as much as they hoped it would, and plans and schedules were often unpredictable, the rewards were tangible.
"We had to learn to take things as they were and give up trying to control every situation," says McCarthy. "We learned to go with the flow and the final presentation of the play was a big success, but honestly, when I think about the trip, the thing that made the biggest impression on me was the children."
"We thought we would be inspiring the children," says Wheeler, "but it turns out that they inspired us with their joy, intelligence and strength. They really, truly live in the moment."
Davis says she hopes to see the program expand in the future.
Categories: For Alumni, For Parents, International, Student, Top Stories, Wake Forest College