Main Content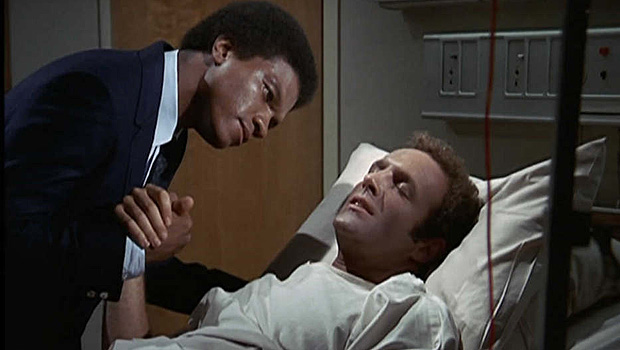 November 30 marks the 40th anniversary of the release of Brian's Song. The 1971 movie first aired on ABC and starred James Caan as Wake Forest alumnus Brian Piccolo, and Billy Dee Williams as pro football hall of famer Gale Sayers.
The movie was such a success on television, winning three Emmy Awards and a Peabody Award, that it was later released in theaters. Disney remade the movie in 2001 starring Sean Maher and Mekhi Phifer. Thanks in part to the movie, Piccolo's legacy endures, inspiring Wake Forest students in philanthropic and volunteer efforts.
Brian's Song focused on the friendship that developed between Piccolo and Sayers while playing for the Chicago Bears. They were the first, and at the time the only, interracial roommates in the National Football League. The movie captures the evolution of their relationship as they grew from roommates into respected rivals and close friends, helping each other through difficult times, including Piccolo's battle against cancer.
"Brian's Song is a movie that was ahead of its time in the sense that it explores themes that were uncommon before its initial broadcast but have become established conventions of the genre since then, especially in terms of dealing with diversity," says Mary Dalton, co-director of Wake Forest's Documentary Film Program and an associate professor of communication.
As a senior running back for Wake Forest in 1964, Piccolo led the nation in rushing and scoring and was named the Atlantic Coast Conference Player of the Year. But less than six feet tall and only 190 pounds, Piccolo was not drafted to play professional football. In 1965, he earned a spot on the Chicago Bears practice squad as an undrafted rookie. The next year, he played a role on special teams and by 1967 he saw playing time as the back-up to starting tailback Sayers. In 1969, Piccolo broke into the Bears starting line up as a fullback, with Sayers at tailback.
During the ninth game of the 1969 season, Piccolo experienced severe trouble breathing and voluntarily removed himself from the game. He was soon diagnosed with embryonal cell carcinoma. Brian Piccolo died on June 16, 1970, at the age of 26.
Dalton explains how these real-life events translated into film. "Brian's Song is like a number of classic sports films, going back to The Pride of the Yankees (1942), in which dying a courageous death becomes part of living a meaningful life and allows the sports figure who dies to, in a sense, win a final victory," she says.
Piccolo left behind a legacy of friendship and courage. In a 2002 guest column for the "Old Gold and Black," Piccolo's classmate Ross Griffith described how Piccolo was personally responsible for integrating the Wake Forest football team.
After the 1963 football season, Wake Forest was "in between football coaches" for a significant period of time. Brian Piccolo and our classmate John Mackovic proceeded to coordinate the recruiting of black football players for the entering class of 1964 in the absence of a head football coach.

At that time, Edward Reynolds, one of three black students living on campus, lived in my suite. Brian and John brought a number of black high school recruits to our suite over time. As a result of their efforts, Robert Grant, Kenneth Henry and Willie Smith entered the university in the fall of 1964 as the first black student athletes at Wake Forest.
Another story about Piccolo illustrates his feelings about race and the leadership he demonstrated while a Wake Forest student. Darryl Hill became the first black athlete in the Atlantic Coast Conference when he enrolled at Maryland in 1962. Across the South, Hill was subjected to racist taunts from opposing fans. A 2007 ESPN article, by Richard Lapchick, describes how Brian Piccolo refused to let that happen at Wake Forest.
During warm-ups before a game at Wake Forest, Hill was the target of racist remarks and taunts… In a remarkable gesture for that era, Piccolo walked over to Hill and apologized for the fans' racist behavior. Piccolo put his arm around Hill and led him toward the Wake Forest fans, silencing their taunts. Hill recognized Piccolo as a hero long before America did.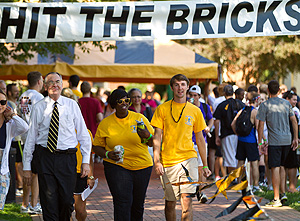 Piccolo's legacy lives on. In 1980, Wake Forest students created the Brian Piccolo Cancer Fund Drive. The inaugural year of the drive brought in $3,500 and each successive year has seen increases in both community involvement and money raised. This October, students raised $26,782 with "Hit the Bricks," a popular campus philanthropic event supporting the drive. After 31 years, the drive is the longest-running student philanthropy project at Wake Forest, raising more than $1 million for cancer treatment and research at the Comprehensive Cancer Center of Wake Forest Baptist Medical Center.
Additionally, the Brian Piccolo Student Volunteer Program provides undergraduates with an opportunity to volunteer at the Cancer Center. Piccolo Hall, a campus dormitory, is named in his honor and two of Piccolo's three daughters attended Wake Forest.
Categories: Alumni, Athletics, Faculty, For Alumni, For Parents, Top Stories