Main Content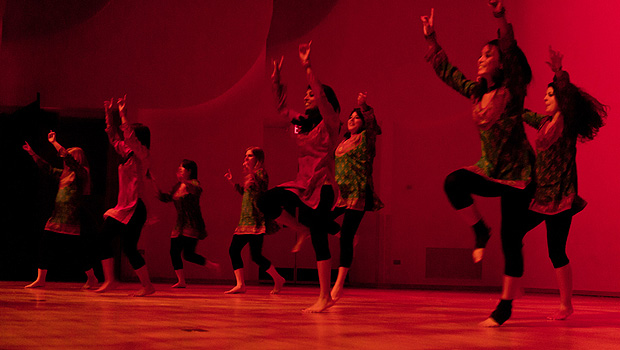 The Wake Forest Chapter of Amnesty International, with help from The Anthropology Club, Office of Multicultural Affairs, Middle East and South Asia Studies Program and the Interfaith Council, sponsored Wake Forest's first World Cultural Dance-Off.
Nearly four hundred students and faculty watched diverse performances of tap, hip-hop, Bollywood, Korean pop, Palestinian Dabke, Bhangra and Indian Folk Dance, from six dance teams. Judges Tina Yarborough, Brantly Shapiro, Nina Lucas and David Lubin, all professors from the Arts and Dance departments, named the Appalachian State University dance team victorious, but this event was about more than winning.
Yasmin Bendaas, a junior anthropology major and the president of Wake's Chapter of Amnesty International, reiterated the entertaining evening's true purpose — to build cross-cultural understanding.
"We live in a highly globalized world today, and although we are more connected than ever, our links have often proved to create misunderstanding and miscommunication between cultural groups," she said. "This event took one aspect of culture, dance, as a way to promote cross-cultural understanding."
Bendaas says that the event met its goal because of the excited feedback she received from high school students on a dance team from Greensboro.
"After their performance they invited members from the audience to learn a few steps," she said. "Astonished at how many students joined them, they are now considering Wake as a college application choice."
In addition to building unity among diverse Wake Forest cultures, the dance-off incorporated Wake Forest's Pro Humanitate motto. All proceeds, generated from a $1 admissions charge and generous donations, went to The Second Harvest Food Bank of Northwest N.C., with the goal of feeding the hungry in and around Winston-Salem.
"The event proved people of all backgrounds can come together for one cause," Bendaas said. "Hunger does not distinguish between backgrounds."
Bendaas said she hopes that Amnesty International continues to take on large-scale events that are both purposeful and creative and also believes that they will hold the dance-off in years to come.
Categories: Arts & Culture, For Alumni, For Parents, Humanities, Pro Humanitate, Student, Top Stories
Subscribe
Sign up for weekly news highlights.
Subscribe