Main Content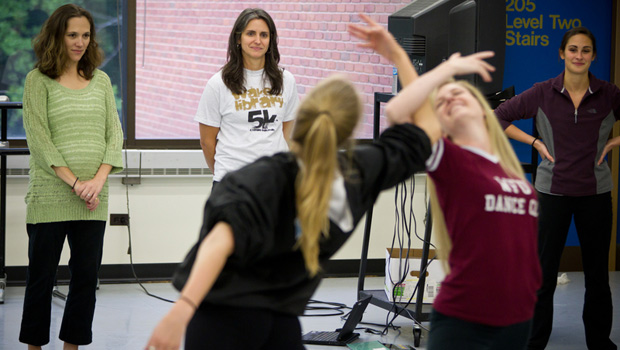 Senior chemistry major Tara Seymour ('12) has been dancing since she was 4 years old.
She never imagined she would be dancing out the process of DNA replication for a college course until the opportunity arose to participate in Movement and the Molecular, the first class where chemistry meets dance taught at Wake Forest.
"I didn't realize there was a common theme between dance and science," said Seymour, who is double minoring in biology and dance. "The class is everything that I love to do rolled up in one."
Eighteen other students are also experiencing this unique interdisciplinary combination of the arts and sciences in the class taught by Associate Professor of Chemistry Rebecca Alexander and Assistant Professor of Dance Christina Soriano.
"The Movement and the Molecular class looks at various scientific processes we may see under a microscope," said Soriano. "What does that microscope image look like if we put it in space and experience it in our bodies and look at it from an artistic perspective?"
Soriano is part of a core group of faculty on the planning committee for the Interdisciplinary Performance and the Liberal Arts Center (I-PLACe), which stresses that performance topics range all over the spectrum, including science. When Alexander, a researcher within the Center for Molecular Communication and Signaling, approached Soriano with the idea of a chemistry dance class, both professors became excited.
Alexander's inspiration for the idea comes from a YouTube video of chemist Robert Weiss from Stanford University in 1971. The video shows students in costume acting out the process of protein synthesis in a dance-like movement.
"It makes much more sense if you act out the process than if you just try to describe it," said Alexander. "I always said there were cool things you could choreograph but I'm not a dancer."
Together Soriano and Alexander are teaching the seven-week, one-hour credit special topics course in the dance department. If the class is successful, it could be potentially offered regularly as a three-credit course.
"It's mostly just a crazy idea and we're going to see if it works," said Alexander.
Even though the course is a free elective for students and does not fulfill any class requirements the professors must teach, it provides both the opportunity to experience the liberal arts education in a new dimension. Alexander and Soriano are also considering how the course might develop into a service-learning course in the future.
"It is a great way to culminate my senior year with a class that takes my two passions— dance and science— and brings them together," said Seymour.
Categories: Arts & Culture, Faculty, For Alumni, For Parents, Humanities, Top Stories, Wake Forest College