Main Content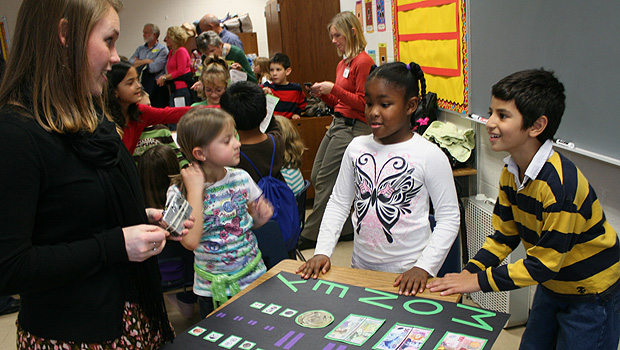 New Zealand: A place where rugby is a popular sport, a prime minister leads the government and the national bird is the kiwi.
This week, students at Meadowlark Elementary School in Winston-Salem shared what they have learned about the island nation as part of an international exchange project using technology to link them with their counterparts down under.
Led by Associate Professor of Education Ann Cunningham and Wake Forest student teachers, Laura Mayerchak and Caroline White, the project connected 48 first, second and third graders from Winston-Salem with students at Pt. England Primary School in Auckland, more than 8,000 miles away.
Two classes, taught by Tina McSwain and Kelly Nichols at Meadowlark, are using an online tool called "Edmodo," a sort of Facebook for kids, to connect with students and teachers at the New Zealand school. To work around the 18-hour time difference, they created videos and blog posts and have been sharing information about topics such as animals, transportation, holidays, weather and government in their respective countries.
"My students were so excited to learn about New Zealand after seeing notes and videos from the students there introducing themselves," said White, who is working with the third grade class. "They were much more motivated to learn about New Zealand once they had seen other children who lived and went to school there."
Third grader Mary Leigh Cook liked using technology to connect through a social network. "We typed to them and they would type back to us," Cook said. "We would send videos. It was fun."
The project, which has been underway for the past several weeks, explores how young elementary school students can learn to use the technology and benefit from the interaction with children from another culture. "In today's global society, it is critical to teach even the youngest students how technology tools work and how they can connect," said Cunningham, who studies technology in education. The project shows how integrating technology and global communication could improve student engagement and performance.
From the collaboration between schools and the use of student teachers to help make it work, Cunningham is learning how this approach helps kids learn the 21st century skills — innovation, collaboration and technology — that will keep them from falling behind their peers around the world.
She is also learning what teachers need to know to make it work.
"We have to teach the teachers so they are able to facilitate this," she said. If they have the experience as student teachers, they can replicate it or build on it when they have their own classrooms.
"They're going to be more curious," said Mayerchak about the first and second graders she's been teaching this semester. "They know something about New Zealand, but they are also thinking about so many other countries and cultures. When they see things like this are possible, they can make connections anywhere in the world."
Mayerchak was among the students who went with Cunningham on a study abroad trip last summer to New Zealand to learn more about that country's innovative use of technology in the early grades. Now, together they are building on those ties to foster global learning for North Carolina elementary school students.
"The interaction with individuals their age from across the world is great," said Janet Howard, whose son, Joshua, is a third grader. "He was most interested in the time difference.  He was amazed that across the world there are people already 'in tomorrow'."
"Having a forum to post comments to other students across the world has been thrilling to the kids," said Nichols, who teaches the third-grade students. "The fact that people across the globe in a very different community are similar to us is kind of eye-opening to 8-year-olds. It has also opened their eyes about how to communicate with others. They were (for the most part) completely unaware of the capability of the Internet for much more than games."
Categories: Faculty, For Alumni, For Parents, International, Student, Top Stories, Wake Forest College
Subscribe
Sign up for weekly news highlights.
Subscribe