Main Content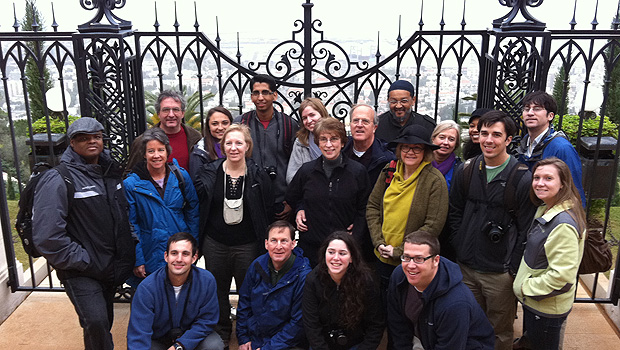 "Paula read Psalm 94 in English, Hannah read it in Hebrew, and Muhammad sang a few verses from the Quran," said Bob Stillerman, a School of Divinity student describing a scene from Wake Forest's recent Interfaith Pilgrimage to the Holy Land.
The group of 13 divinity school and undergraduate students and their leaders—School of Divinity Professor Neal Walls and Associate Chaplain for Muslim Life Khalid Griggs—gathered at a spot overlooking the Sea of Galilee during the University's winter break.
"All at once we were connected to an ancient tradition of looking upon the hills and mountains of Israel and giving thanks to God," Stillerman wrote in the blog chronicling the journey to Jerusalem, Bethlehem, Masada and other places of religious and historical significance in the region.
Participants discussed the trip at a public presentation on campus Jan. 26.  The two-week experience was the beginning of a semester-long class devoted to the history and religious traditions of Jewish, Christian and Muslim communities.
Sophomore Avalon French, a religion major and co-president of the University's Interfaith Council, was among the undergraduates who traveled on the Interfaith Pilgrimage.
"With Professor Walls and Imam Griggs, we would visit one place, like the Temple Mount, and get two different perspectives," French said. "It opened our minds to different points of view and helped us understand the value of interfaith dialogue."
As the participants visited sites in Israel and looked at them from Christian, Jewish and Islamic perspectives, Griggs said he saw many of them become energized about interfaith work.
"Nowhere else in the world is the message clearer of why interfaith cooperation is so important," he said. "They developed a greater appreciation of others' faiths, the necessity of cooperation and how that directly impacts society. It humanizes us all when we take the time to understand that the common space we all share is much larger than we thought it was. There are many more issues of common concern. When we take the opportunity to understand people of other faiths in our community, we realize there is so much we can do together."
Griggs and Walls have worked, along with the Office of the Chaplain and other members of the campus community, to encourage interfaith connections overseas and closer to home.
"Our group returned from this pilgrimage with an increased awareness of the diverse religious sensitivities that claim Israel and Palestine as 'holy land,' the difficult position of minority religious communities and the value of interfaith cooperation," Walls said. "Our conversations about religious pluralism will continue throughout the spring semester as we reach out to the larger religious community at Wake Forest and in the local area."
As part of the course, students will be asked to engage members of local mosques, churches and synagogues in interfaith dialogue.
In recognition of Griggs' longstanding interfaith outreach work, he was appointed in January to the Board of Trustees of the Council for a Parliament of the World's Religions, the largest interfaith forum in the world. The organization's mission is promoting "harmony and cooperation among the world's religious and spiritual communities and fostering their contribution to a more just, peaceful and sustainable world."
Wake Forest Chaplain Tim Auman said, "Wake Forest's commitment to interfaith dialogue is reflected in academic programs like the Interfaith Pilgrimage and in the day-to-day life of the University. We seek to create an environment where people of all spiritual and philosophical traditions are welcomed and supported."
Categories: For Alumni, For Parents, International, School of Divinity, Student, Top Stories
Subscribe
Sign up for weekly news highlights.
Subscribe