Main Content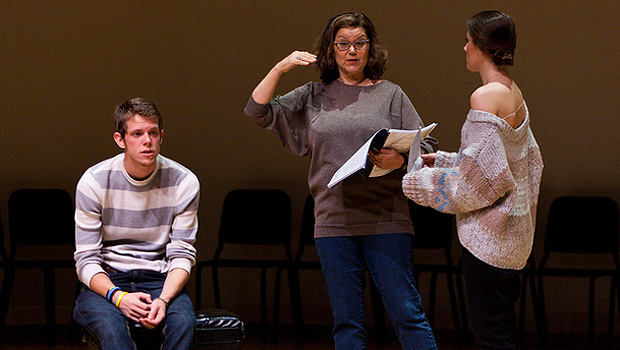 On a rainy Saturday afternoon in early February, the student actors preparing for this week's opening of "City of Angels" were taken through their paces in a master class conducted by Broadway veteran Susan Terry.
For 18 years, Terry performed in many successful New York productions, including "Evita," "Zorba," "Anything Goes," "A Little Night Music," "The Pajama Game," and "City of Angels." Funding from Wake Forest's Center for Performance in the Liberal Arts (also known as iPlace) enabled Terry to give the student actors an afternoon of intensive instruction.
The students performed songs from the show for Terry and professor Cindy Gendrich, who also is the director, opening themselves to rigorous critique at the end of each number.
"You are fantastic!" exclaimed Terry after hearing Jake Meyer, a senior theatre major from Indiana, perform "Look Out for Yourself." "That sounded great!  But you need a bigger ego. You're a sweet guy and we can see that. You must convey that you love how you sound. You are the star. In your mind, in your character's mind, you are a star so you have got to love what your doing – love yourself brashly."
Meyer, who plays desperate screenwriter Stine, smiled, nodded and tried again.
Once again, Terry came back at him, "Right now you are just too sweet and shy. That voice of yours is just worth millions. Let it go!"
Meyer sang again.
"Keep your chin down," Terry coached, lightly pulling on Meyer's chin, as he sang.
Meyer sang again.
"This isn't a pretty song. It's about ugly feelings. Don't try to sing it pretty.  Hold your chin down and your mouth tight. Stay on the vowel longer. Just throw it. Come on. Just throw it. Just try it."
Meyer sang again.
"Almost," encouraged Terry. "Stick your tongue out!"
Meyer sang again.
"Now then that was better!" applauded Terry, as Meyer finished his 10th attempt at the song.
How did Meyer feel about his ordeal? "Incredibly grateful," he said. "I have to get this right. I have to get the songs right. Nothing is more important to me right now, and this is helping me do it."
"This has been a fantastic experience," said senior drama major Wes Hughes, who plays the character Buddy. "Susan Terry said that there are people for whom acting is the only thing they can and want to do. I am one of those people, like her. I plan to continue acting in Chicago after I graduate. It was great to work with a professional."
Categories: Events, For Alumni, For Parents, Humanities, Student, Wake Forest College
Subscribe
Sign up for weekly news highlights.
Subscribe