Main Content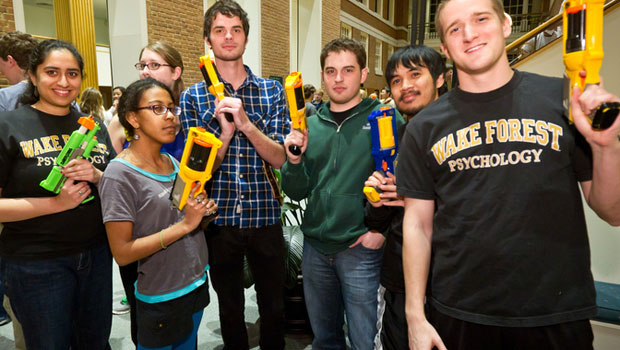 On Friday, March 2, about a hundred excited Wake Forest students met in the Z. Smith Reynolds Library to play Humans vs. Zombies (HvZ), an action-packed role playing game of tag.
Since 2005, when the first game of HvZ was played at Goucher College, zombies have infected college campuses worldwide. An HvZ Facebook page with nearly 50,000 "likes" attests to the game's popularity.
Students starting the game as "zombies" spent the evening weaving between bookshelves and hiding behind furniture hoping to tag "human" players and convert them to the undead. Players had full use of the library's eight floors, two wings and 173,000 square feet of space. Some humans defended themselves with Nerf dart blasters, while others strategically hid in dark corners to avoid attacks.
One Friday night each semester the library staff, with assistance from Campus Life, extends its normal weekend hours and hosts a large-scale game. The tradition began in 2010 with Capture the Flag, and HvZ was added to the mix last September at the suggestion of sophomore John Walsh. Eighty students turned out for that first game.
"As an underclassman, it's nice to feel that your thoughts and your ideas are well received, Wake is all about tradition, so to be able to say I had a hand in starting something here feels really great," says Walsh.
While this was the second game of HvZ sponsored by the library, junior Blake Briggs, an HvZ veteran, and 15 of his friends have hunted zombies in Tribble Hall since their first year at Wake. "People studying in the building get up to use the bathroom and end up being shot, but we always invite them to join in."
The group runs into the occasional challenge playing HvZ in an academic building, and they find that the library works well. "Parts of the library are spooky, and it just makes for a more unique setting. We love playing in there. It feels like we're in a vampire movie," says Briggs.
"We aim to meet students' needs, and sometimes that doesn't involve academics," says Hu Womack, an instruction and outreach librarian who works after hours to oversee the library's game nights.
The game is played competitively — after all it's life or death — but the atmosphere is laid-back. "We have music playing and we celebrate after the game with pizza. We love it, and the students love it," says Womack. "It's not interfering with or taking away from study space or time, but it lets a whole different audience come in and enjoy the library in a completely different way."
Categories: For Alumni, For Parents, Life on Campus, Student, Top Stories
Subscribe
Sign up for weekly news highlights.
Subscribe